In the late summer of 2019, my husband, 8-month baby girl, and I took a road trip around the northeast corner of Spain, also known as the Catalonia region. The first 10 days included Barcelona, Tossa de Mar, Palafrugell, and Cadaqués. After that, we drove somewhat inland through Figueres to visit the Dalí museum, and then spent two nights in Girona, and the last three in La Bisbal. This is part 1 of our trip, highlighting our unforgettable journey along the rugged coast!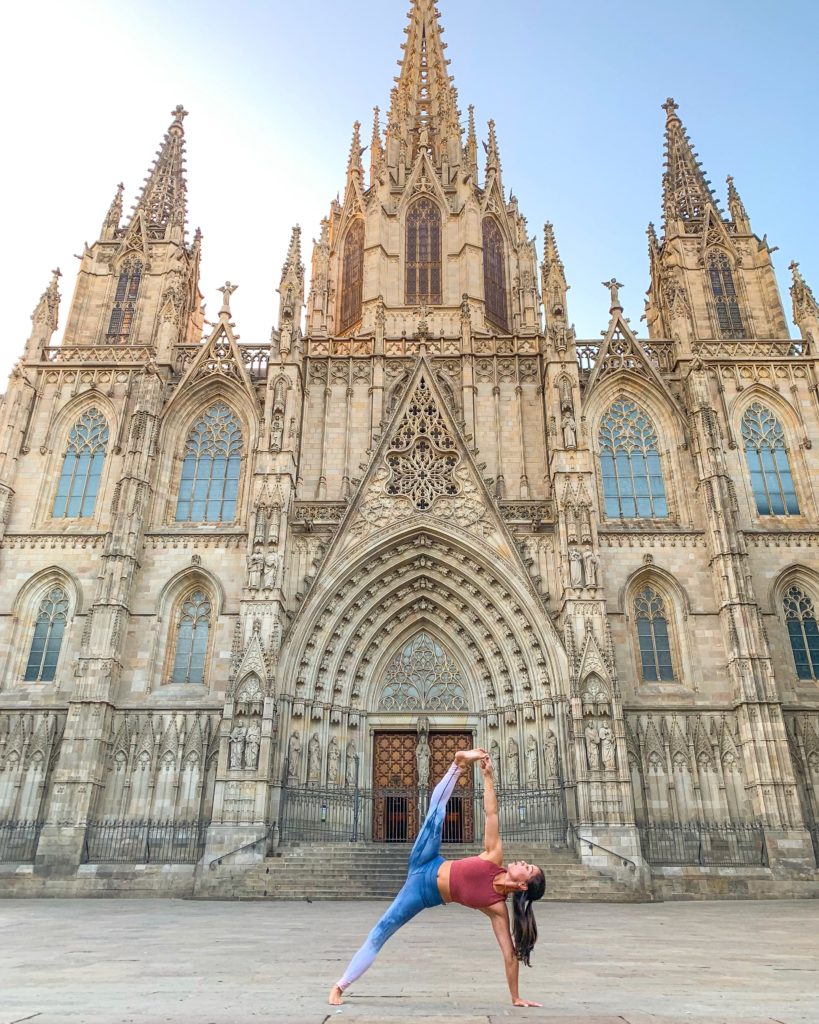 After traveling on a few somewhat easy trips with Everly, we knew we wanted to do at least one international experience during my year of maternity leave. Part of the draw was that we could now travel outside of the school calendar and take advantage of the shoulder season. While I get a lot of holiday time as a high school teacher, it's always the most expensive and busiest time to travel, so we were really excited to plan a family vacation in September!
I originally hoped to do Greece, but after looking at high prices and the amount of travel required between islands (not to mention the stairs!), I began my research into Spain. Flights out of Vancouver were reasonably priced and I was hopeful that we could take easy, short road trips from Barcelona. My research soon brought me to a stretch of coastline that I had never heard of before: The Costa Brava.
There is shockingly little information to find on blogs or tour books about this small expanse of Spain's northeast coast. A more popular first foray into Spain is to travel to Barcelona, Madrid, and Seville. I worried and hummed and hawed about if this was the right choice for us. But in the end, the Costa Brava was more beautiful than all of our expectations, and I couldn't recommend it more — with or without a baby!
This post is dedicated to our itinerary and road trip, including notable lodging, restaurants, and baby-friendly activities. Before you begin planning your trip, though, just make a note that dining hours in Spain are very different from other European countries. We completely forgot about Spanish siesta and how it impacts dinner hours–something to keep in mind if you want your baby to be on any kind of sleep schedule. Most restaurants only open for dinner at 8pm!! which proved to be difficult for us almost every day. Everly was 8 months old when we embarked on this trip and just trying to crawl, so it actually helped us a lot that she wasn't super mobile yet!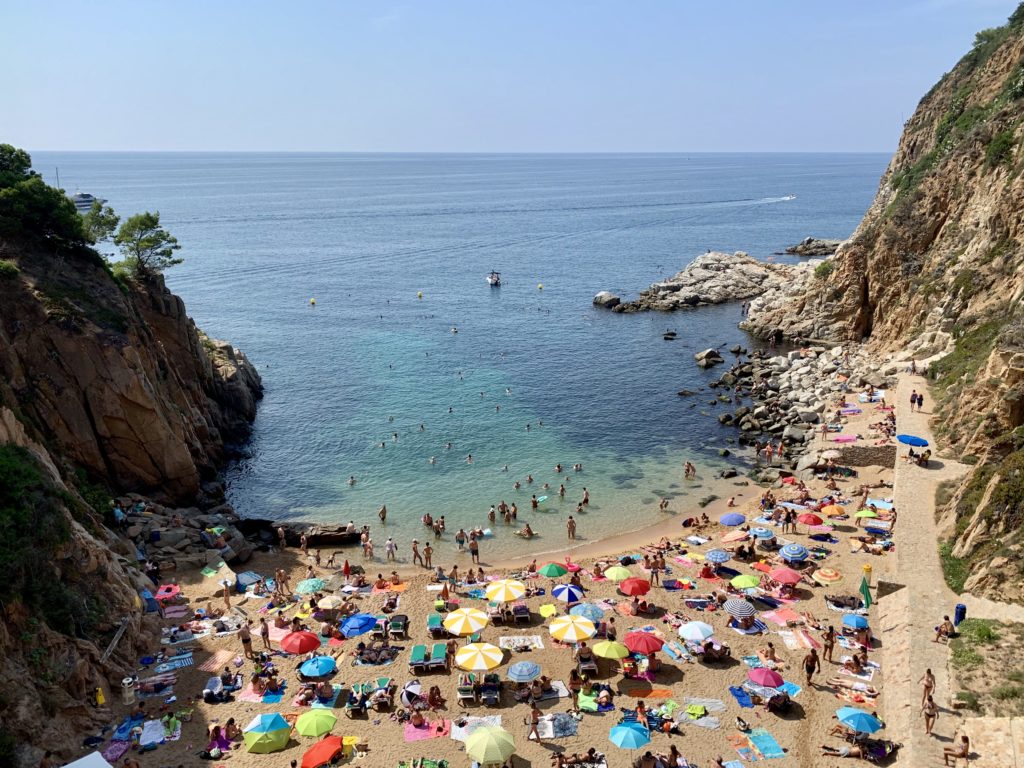 Days 1 to 3: Barcelona
We flew on Aeroplan points from Vancouver to Barcelona with a stopover in Montreal. Everly is a champion flyer and typically sleeps on most legs of our trips. We decided to buy her her own seat for these flights so that we could bring her carseat on the plane. Even though this is a more expensive option, we really valued being able to eat and sleep comfortably ourselves, especially on a long-haul flight.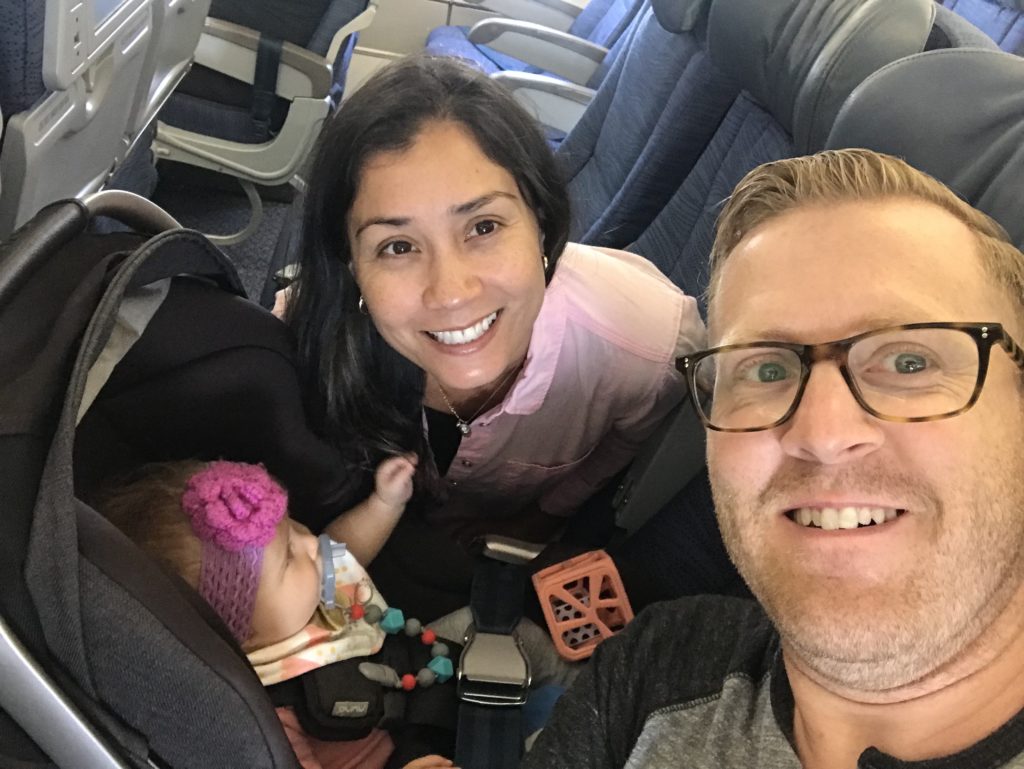 That being said, when we arrived in Barcelona, Everly's sleep schedule was complete chaos. With a 7 hour time change, she slept most of the day and was up most of the night. The first week of the trip still feels like a blur as we tried to adjust to the new timezone. Luckily we have some great photos to help us remember our experience since we definitely felt like zombies during our stay in Barcelona!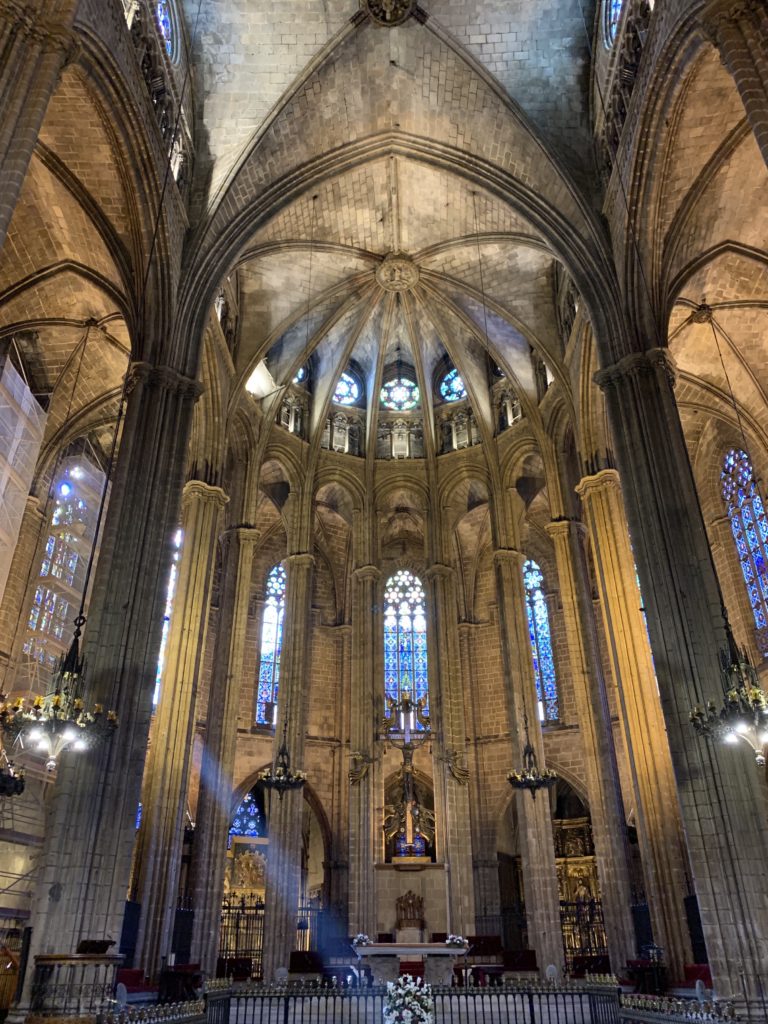 We stayed in the gorgeous medieval neighbourhood of El Born, which made for great strolls at 5am when we were wide awake and needing to burn off some energy. Our hotel, the Mercer House Boria Barcelona, was not particularly notable and more like a converted apartment building. But it was well situated and spacious with a mini kitchen (a must when traveling with a baby), and a great base for getting out and seeing the sights!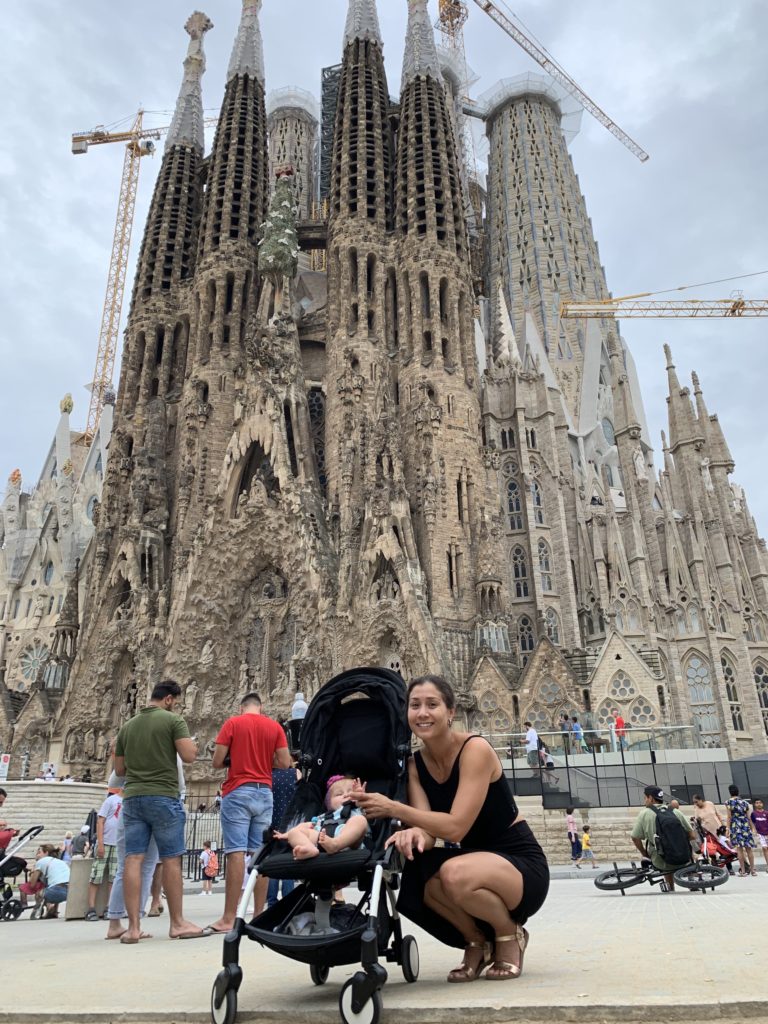 We spent only three nights in Barcelona as a way of easing into our new time zone. Most of our time was spent taking long walks through the different districts, cruising along Las Ramblas, and viewing the stunning architecture. No trip to Barcelona is complete without taking in the surreal grandeur of La Sagrada Familia and Barcelona Cathedral! We sadly didn't have time to go inside La Sagrada Familia and I have heard that it is a life-changing experience, not to be missed. But with our jetlag and the massive queues out front of the cathedral, we decided that we would have to come back and do it another time.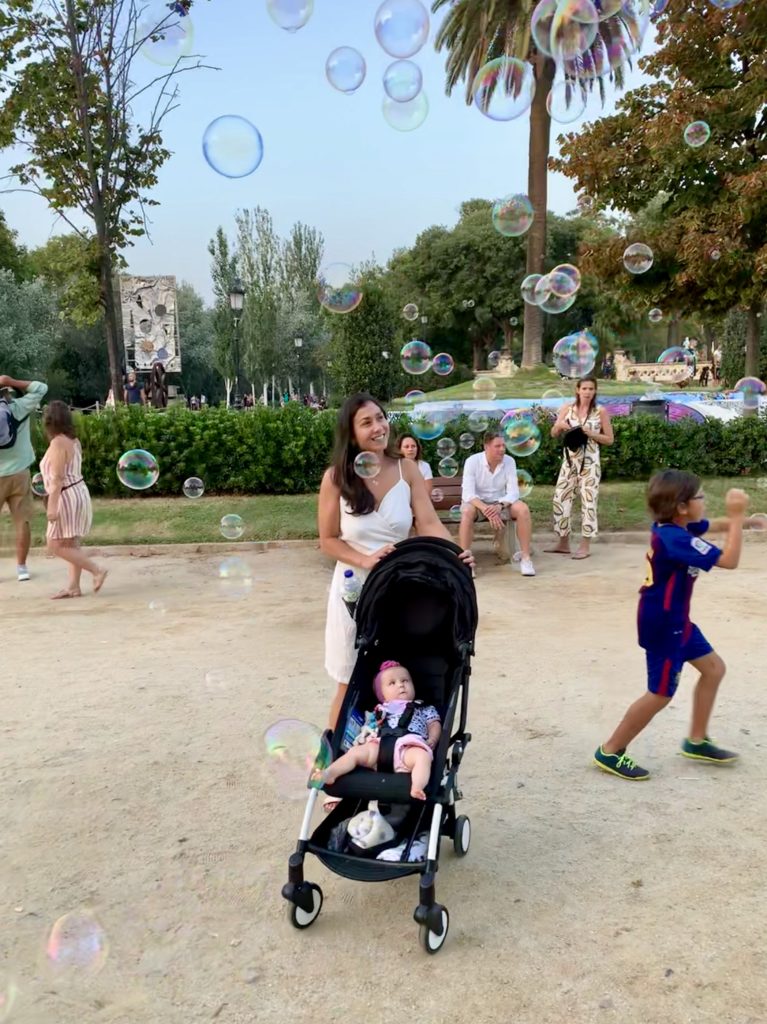 One of our favourite parts of Barcelona was simply getting lost in the labyrinthine streets of the Barri Gotic, sampling food along the way. No one batted an eye about bringing our baby to the bar, and she was often awake late at night when we wanted to grab a cocktail or a glass of cava.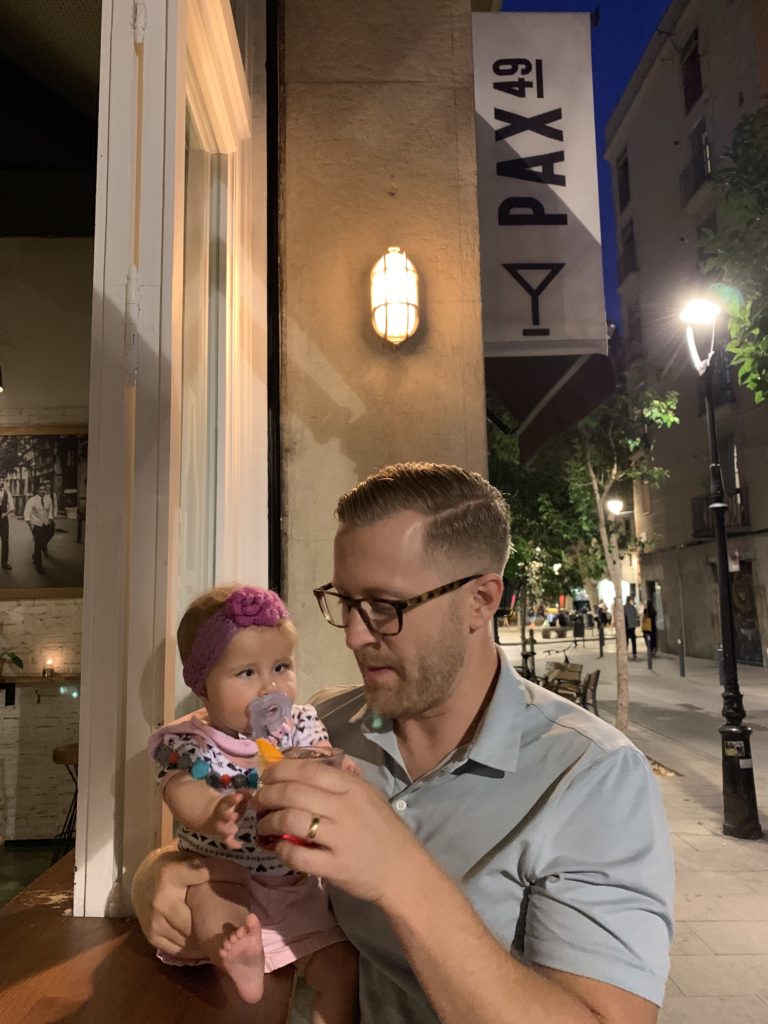 While Barcelona is a destination in its own right and you could spend two weeks exploring its treasures, we were soon pushing off to the airport for our rental car and heading northeast for the "rugged coast": La Costa Brava.
Days 3 to 6: Tossa De Mar
The drive from Barcelona to Tossa De Mar takes approximately 1.5 hours on well maintained highways with good signs. There are occasional highway tolls which can be a bit confusing, and it's easier to have some euros on hand to pay for these in cash. I found Catalonian drivers to be a bit on the reckless side, so do take extra caution if you're driving. There is apparently a bus from Barcelona to Girona, but if you want to explore the Costa Brava, you're going to need your own transportation.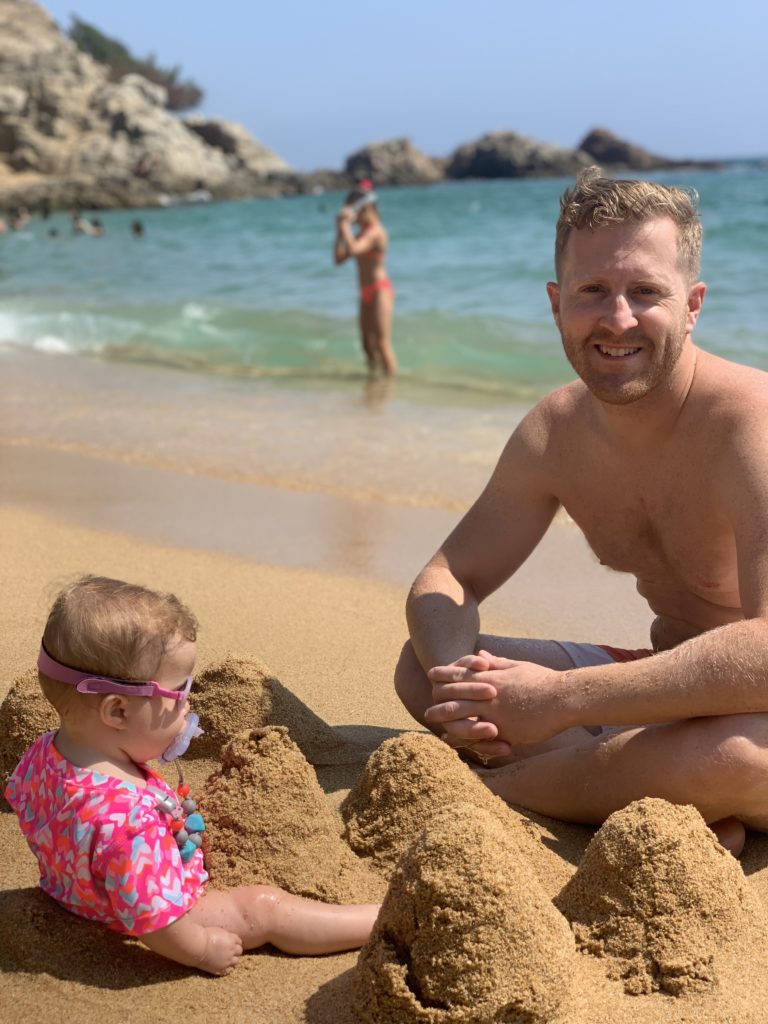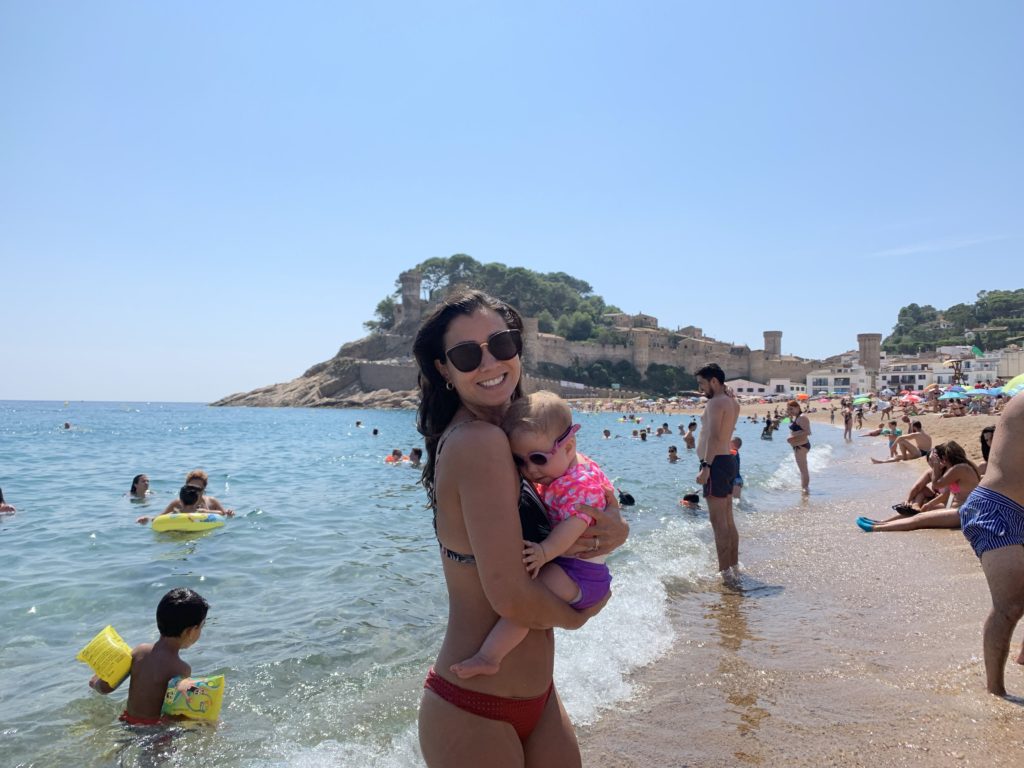 Tossa De Mar is like a medieval fairytal come to life, all set against the stunning turquoise of the Mediterranean Sea. We arrived on the last weekend of August, just as high season was coming to a close, so it was predictably busy. Despite the amount of people in such a small village, Tossa still didn't feel too stifling with people, and there was always a space at restaurants or on the beach.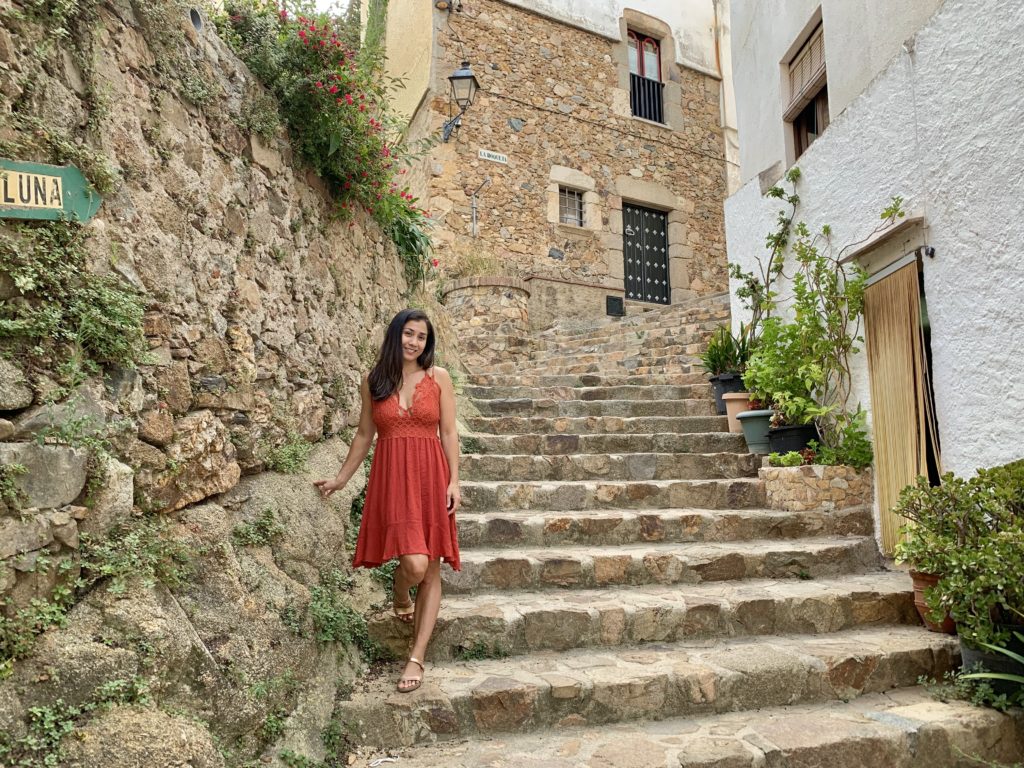 The medieval fortress and village of Tossa are what define its picturesque charm. We took Everly up the hill to the fortress in her stroller, which wasn't a good call near the top because the cobblestones were so rough that we weren't able to make it very far. But the views from the top are exquisite, especially at sunset, so we went back the next day and used her carrier instead.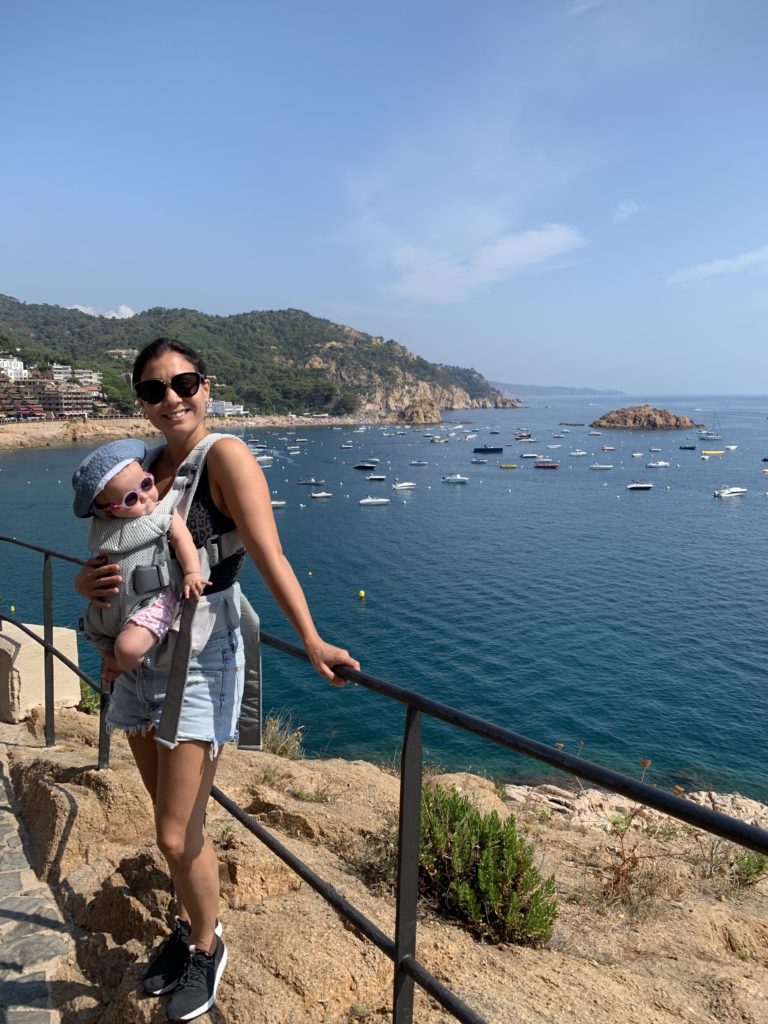 We chose a relatively high-end boutique hotel, Hotel Diana, because of its incredible proximity to the waterfront. Set directly on the beach, we booked a suite with a balcony facing the sea that was perfect for watching the sunrise (especially since we were still suffering from jet lag!). Almost all hotels in Spain come with a free breakfast buffet, and the one here was particularly good. My favourite food in Spain was pa amb tomàquet: a fresh tomato is spread on toasted baguette with garlic, olive oil, and salt and pepper. We ate this at almost every meal. Delicious!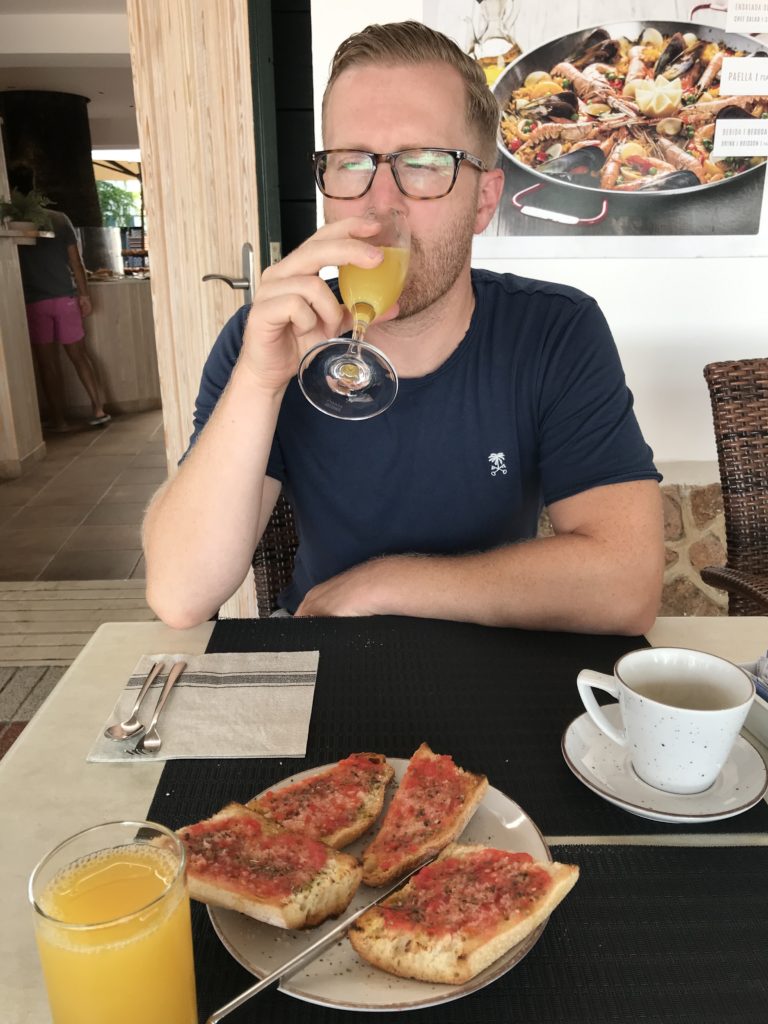 Speaking of food, we took in two notable meals in Tossa: Cuina Can Simon, a 1-star Michelin restaurant with a prix fixe dinner menu, and Can Sophia, set inside the Casa Granados Hotel. Both meals were delicious, but we were basically catatonic from sleep deprivation at Cuina Can Simon, and can barely remember anything about that meal! However, Can Sophia was set in a stunning, atmospheric glass-roofed space, and definitely my favourite of the two! I was so impressed by how accommodating everyone was about having a baby in a fine-dining establishment, but then again, all families eat late in Spain so they must be used to babies!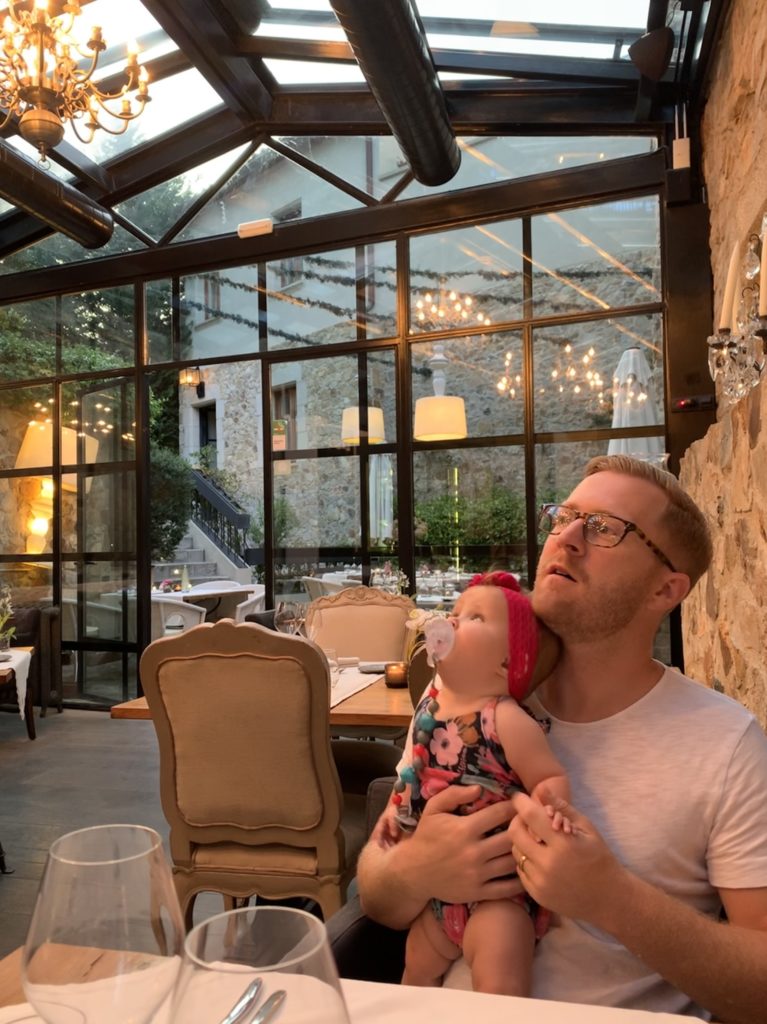 We stayed three nights in Tossa de Mar to give us a chance to take in the village (which is quite small) and beach, as well as a trip to one of the nearby beaches. Even though there are a number of amazing beaches close by, the ones in Tossa were just as pretty and came with the added bonus of the castle on the hill. There are actually three small beaches in the town and as a starting point on a road trip, three days is the perfect amount of time for some sand, sun, and sightseeing.
Note: all of the towns that we visited were hilly, cobblestoned, and not very stroller-friendly! We made do with our Yoyo but often chose the baby carrier if we knew we'd be hiking or on bumpy cobblestones.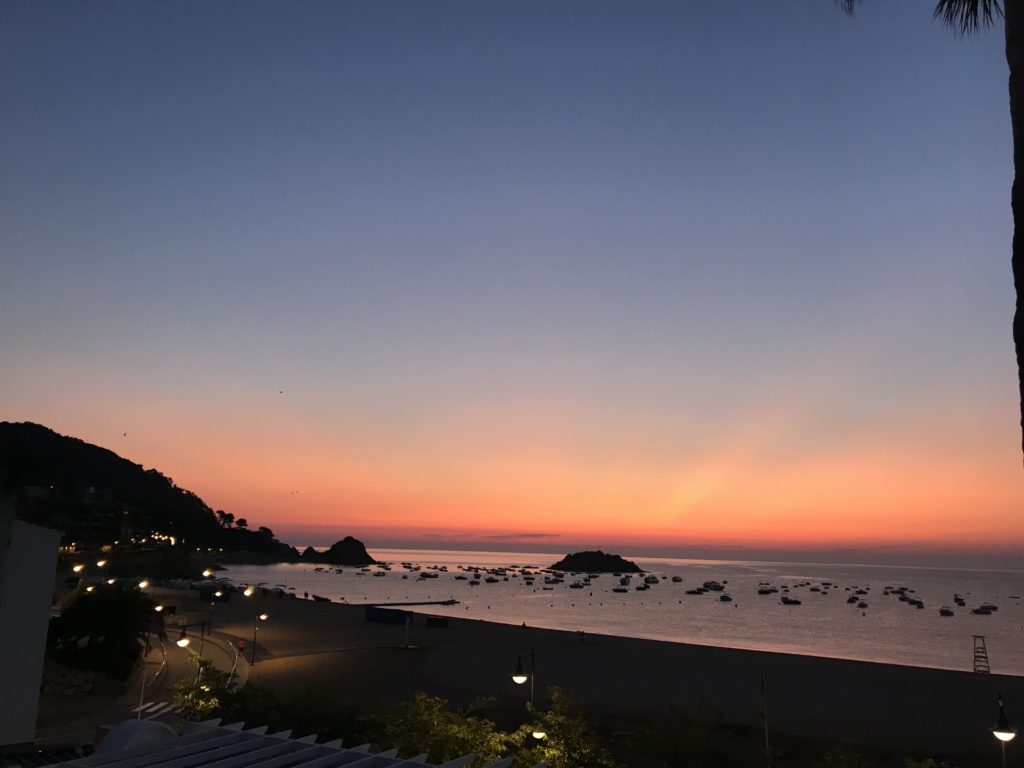 Days 6 to 8: Palafrugell
Palafrugell is actually a town somewhat inland from the coast, but Calella de Palafrugell (Calella means beach in Catalan) is a tiny beach town that packs a big punch. Despite being busy at this time of the year, it had a decidedly non-touristy feel, which was very different from Tossa de Mar. It was only a 45 minute drive away, and we chose it because I managed to find AMAZING accommodations on AirBnB for a decent price. Think: penthouse level condo with a rooftop patio and hot tub, all overlooking the Mediterranean and being just steps from the beach. Check out this link or this one on AirBnB and just make sure that you choose the "penthouse" option because they own two flats in the building…and you will definitely want the penthouse! Anna is the lovely owner who will greet you herself and make sure that you are well taken care of.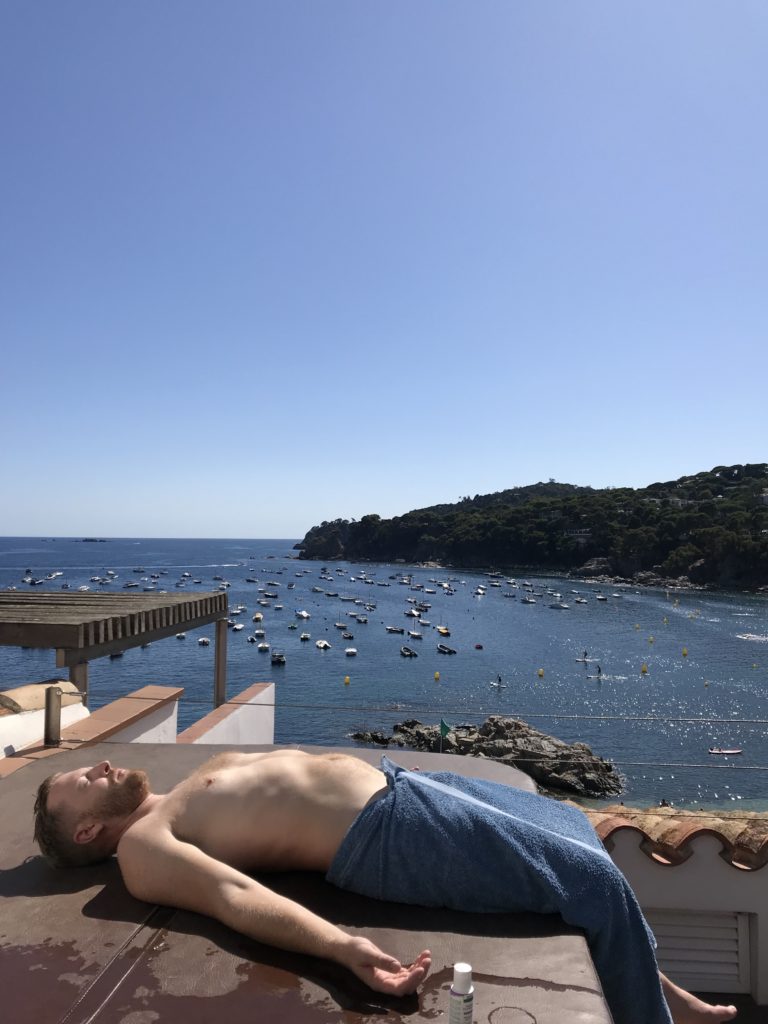 We were so enamoured with our lodging and the incredible beach out front that we didn't venture out on any day trips from Palafrugell. We also didn't find any restaurants that really stood out, but that was because Everly was in meltdown mode each night when we attempted to go for dinner at 8pm. In fact, we tried to eat as close to our apartment as possible, and spent most of the time trading off rocking her and trying to get her to stop crying!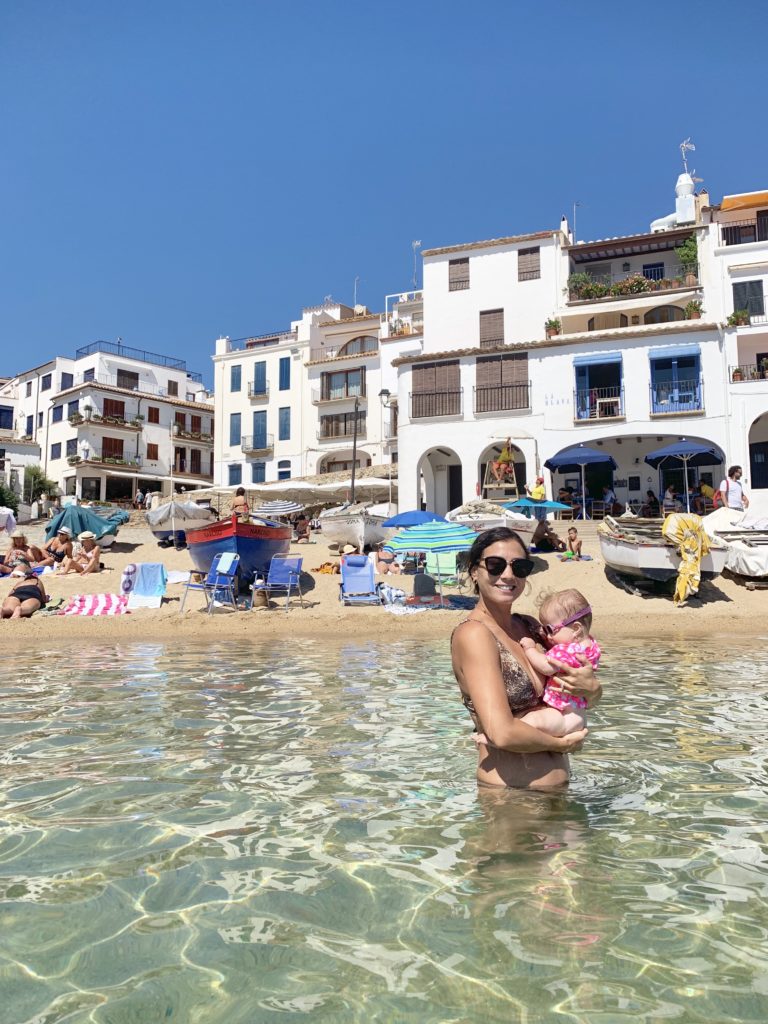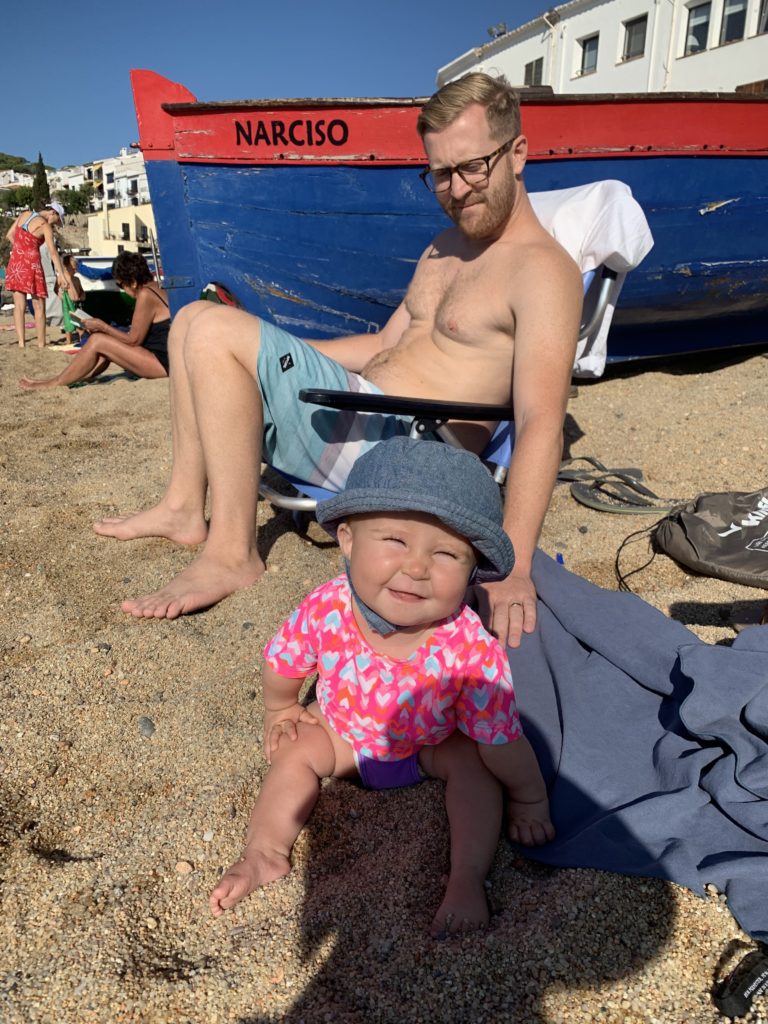 Despite that, our two days in Palafrugell were a highlight of the trip, and probably the prettiest piece of the Costa Brava that we were lucky enough to see. Much of the coast is connected by a seawall known as the Cami de Ronda, a footpath built in the 19th century. If you are interested in more challenging day hikes, you can read up on several routes of the ronda here. Sadly, with the soaring temperatures and the steep inclines (while wearing a baby), we only managed to walk about an hour south of Calella de Palafrugell, but I would have loved to continue further! My husband and I both agreed that we should have stayed another night in this gorgeous seaside town, lazing the day away in the water and taking full advantage of the view from the rooftop of Anna's incredible penthouse!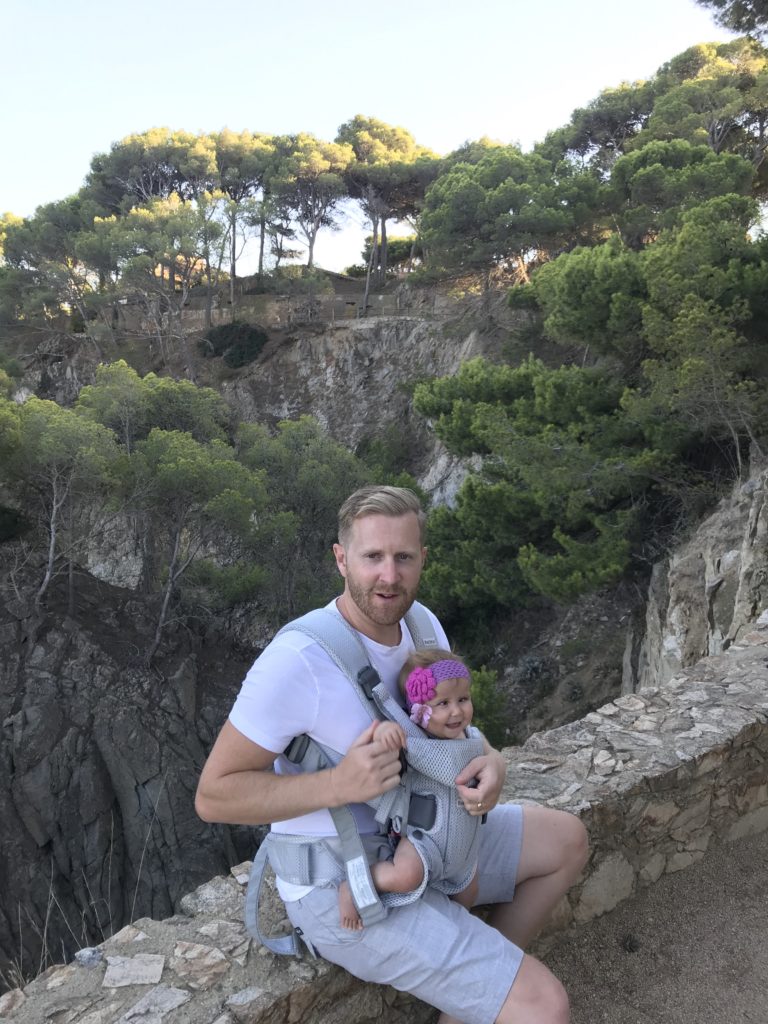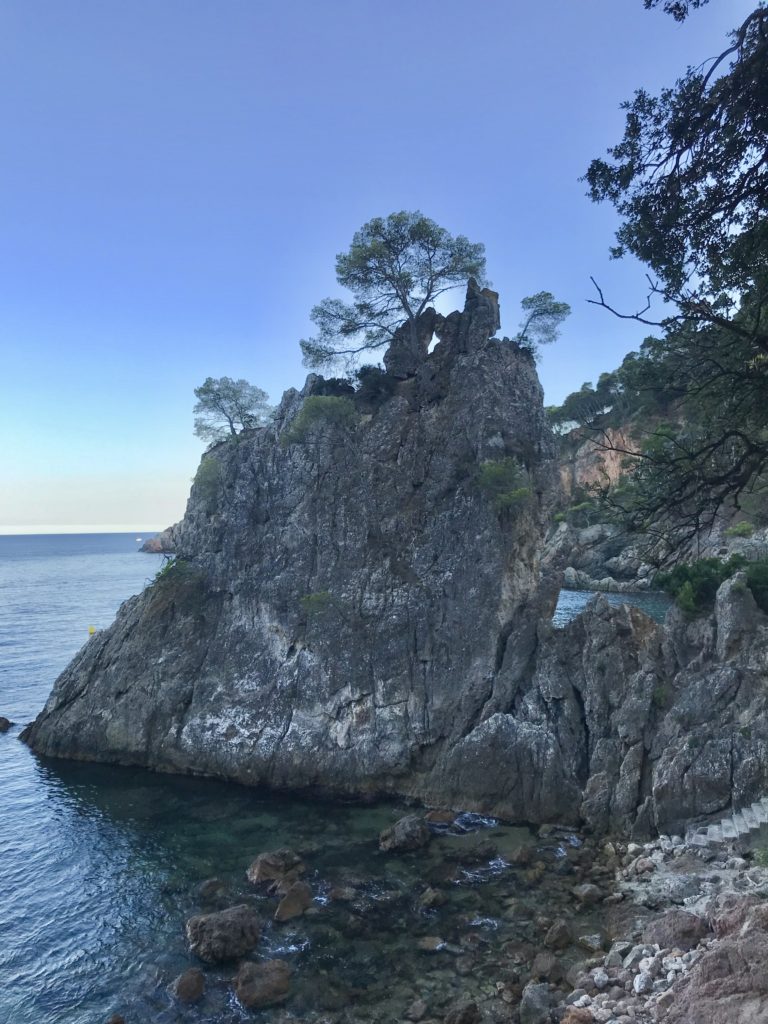 Days 8 to 10: Cadaqués
Cadaqués is the northernmost coastal town in Spain before you hit the French border. All of the research I did on the Costa Brava insists that you visit Cadaqués–they claim that it's so unique in geography and so postcard pretty. But every time I looked at photos of it online, I felt underwhelmed. In the end, FOMO got the best of me and I decided to book two nights. I'm so glad I took the chance because we absolutely loved this white-washed fisherman's town!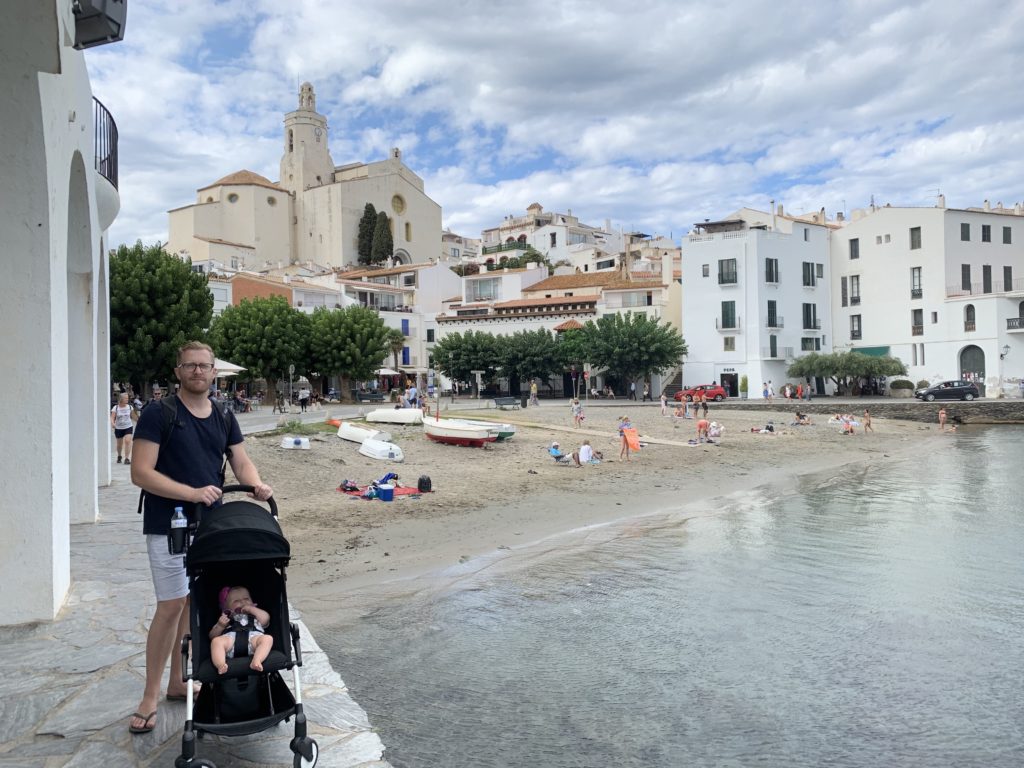 Cadaqués has a very different feel to it than the other seaside towns of the Costa Brava. It's far more remote and difficult to get to, for one. While it looks close on the map, you need to weave your way over a treacherous hill along tiny, cliffside roads. I honestly had to close my eyes as my husband drove us the last 30 minutes into Cadaqués, and I'll be happy if we never do that drive again! The drive from Palafrugell to Cadaqués takes approximately 1.5 hours.
Cadaqués is famous for two main things: being a hometown for the artist Salvator Dalí, and for its proximity to Cap de Creus, a major natural park of gorgeous caves and coves. Despite knowing about these two things before we arrived, we didn't look into either of them during our stay, yet we still adored the town!
Cadaqués is quiet and somewhat moodier than the rest of the colourful coast. It's noticeably colder (but still very warm in the summer) with a bit of a chill in its almost constant wind. It also rained periodically and at times heavily during our stay. None of these elements tend to bring me any joy, and I was surprised to discover how much I loved the town.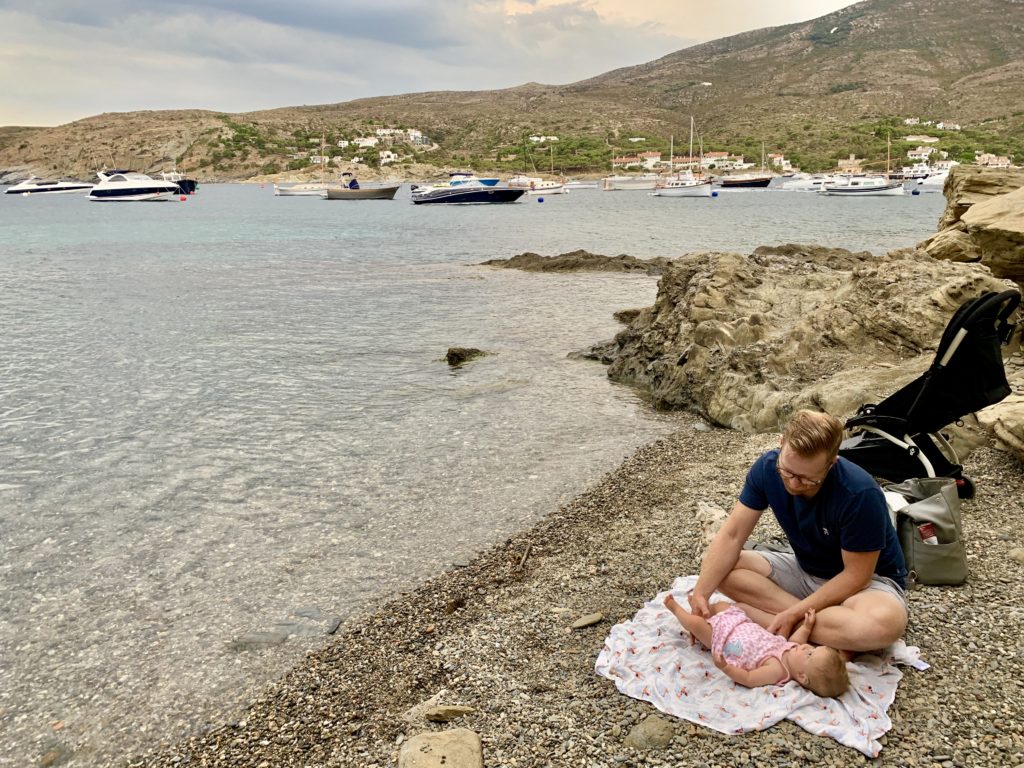 There is a relatively flat seawall that snakes around the bays and coves of Cadaqués. We spent some time walking and quietly taking in the views of the harbour and ancient whitewashed buildings. The seawall includes several arteries of stairs leading down to secluded smooth-stone beaches where we often swam in peace and privacy (unheard of in the other places we had been along the coast!).
We booked our stay extremely late and had limited options for lodging, but finally settled on Rec du Palau. Despite the somewhat dated interior and oddly designed room, we loved the property. It is set atop a steep hill so the building flows into the layers of the land. We spent time at both pools and took in the views from their grand living room. I could have spent hours reading or drinking a glass of wine while overlooking the harbour…but alas, that is not something we managed to do with an 8 month old, of course!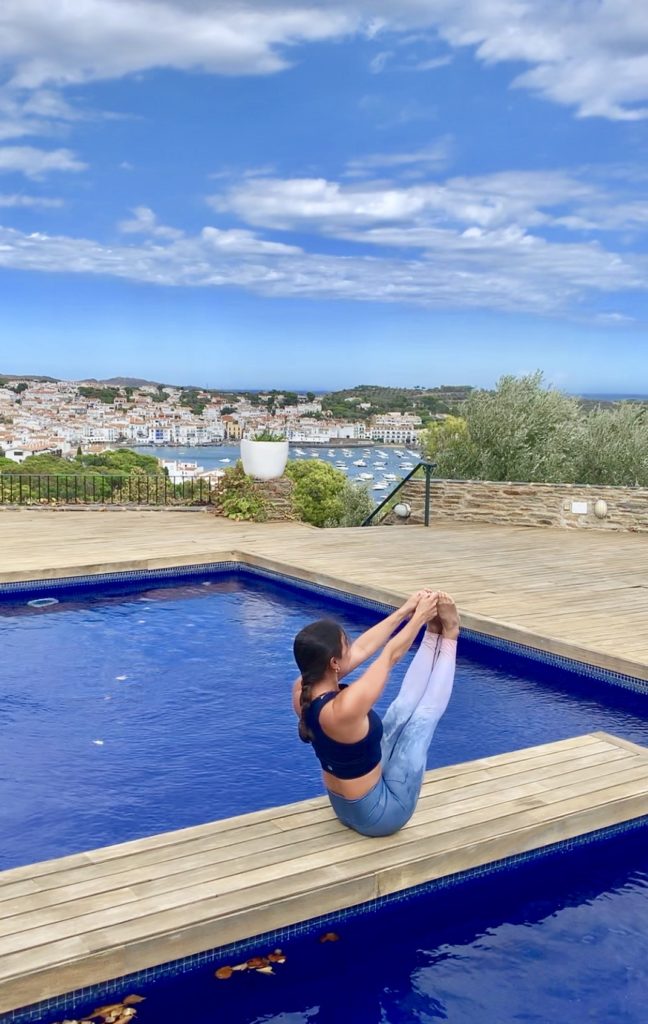 Despite how much we loved exploring the rugged landscape and rocky schists of Cadaqués, this was definitely the hardest city to navigate with a stroller. We managed fine when we were on the seawall, but anytime we ventured into town, we were completely out of luck since almost all streets were built up steep stairs. Our hotel was also difficult with a baby, but these inconveniences did not put us off. As in Palafrugell, we wished we had another day or two so that we could have seen Cap de Creus.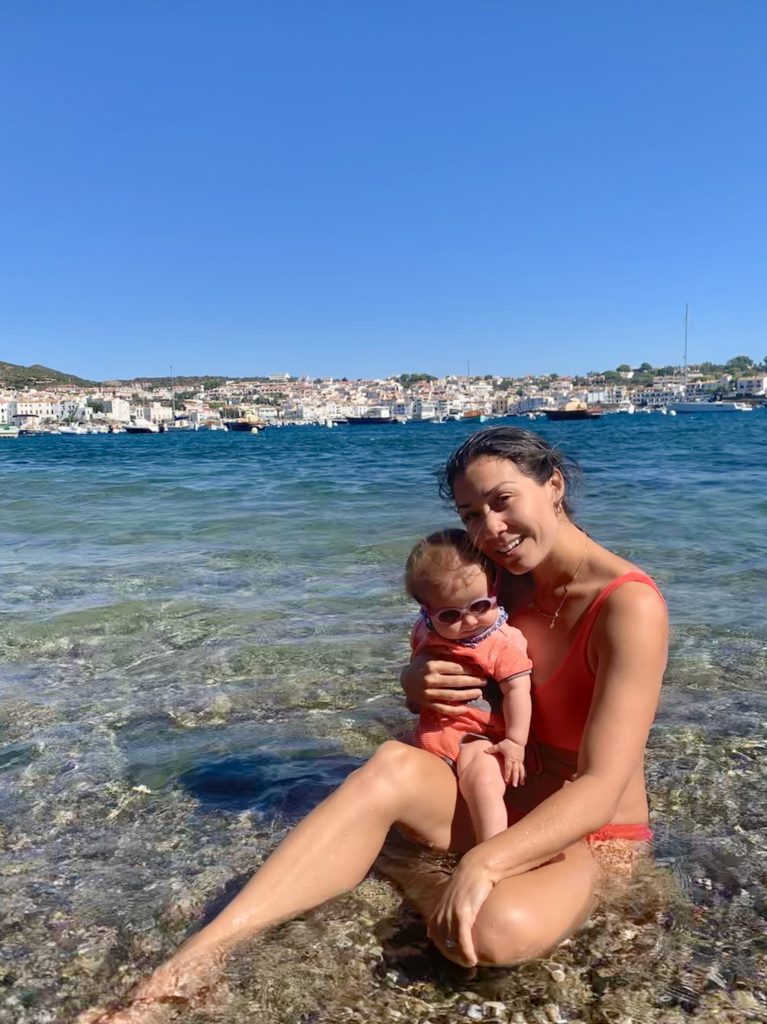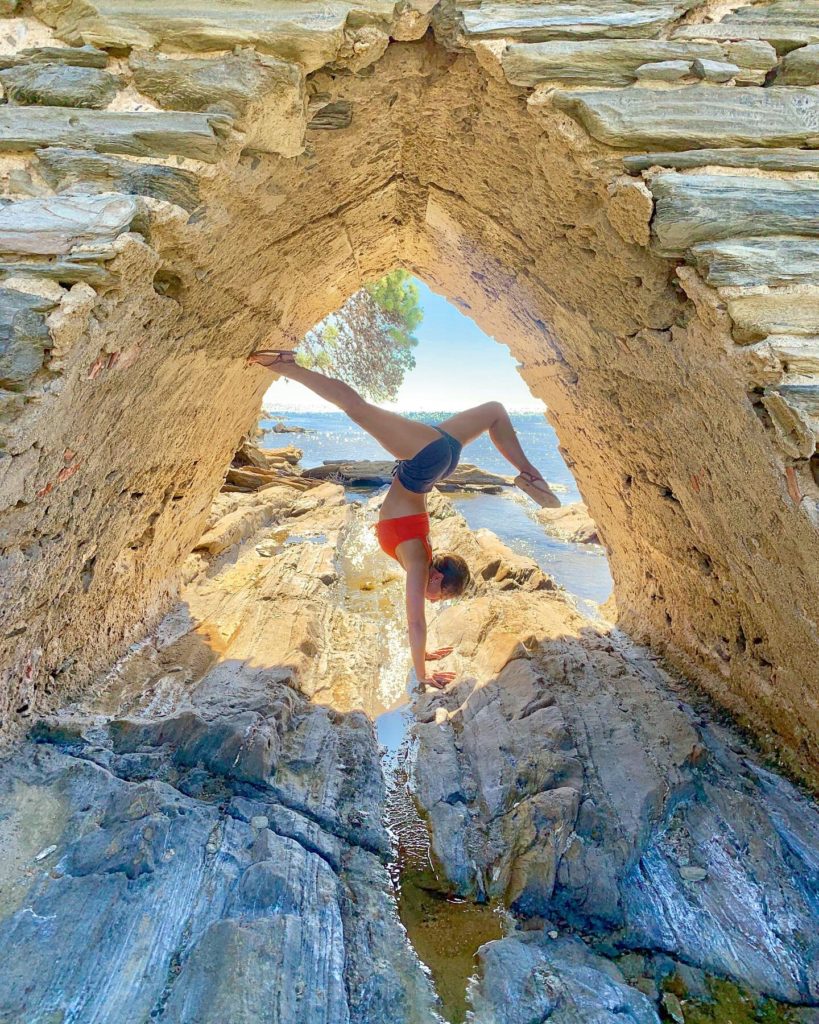 As was the case in Palafrugell, Everly made dining a bit of a nightmare in Cadaqués, and combined with a downpour of rain, we opted for the more touristy food right on the water. We were hoping to eat at El Barroco or Casa Anita during our stay, but we they were fully booked! We made do with tasty (albeit touristy) paellas along the waterfront, and dealt with our screaming child as best we could!
Lasting observations
Our time in Catalonia defied our expectations and left us thoroughly amazed, well-fed (on the nights we were able to enjoy a peaceful dinner!), and inspired by both the natural beauty of the land and sea as well as the staggering architecture of Spanish masters. We will continue to reminisce about our short road trip and can't wait until Everly is old enough to tell her about these adventures.
The time change was particularly challenging for us, even though we have a relatively laid-back and easy baby. If we could do it again, I would probably opt to break up the long haul flight into two segments, stopping over in Toronto or Montreal for a night and then taking another segment into Spain.
Babies are happily welcomed everywhere in Spain, and while it's tricky to navigate a stroller in hilly, cobblestoned villages, a baby carrier works well in most cases, and almost all restaurants have highchairs. We also had no problem booking a free crib at each hotel or AirBnB, and so we were actually able to do this long trip with only carry-on!
Seeing the Costa Brava in person felt like discovering a well-kept secret. I don't know why it isn't more of a popular destination — probably because there are so many enticing spots throughout Spain. But this made for a perfect road trip with a baby! We were never more than an hour and a half on the road, and we managed to cover some of the most romantic and memorable spots along the coast!
Happy travels — with or without a baby!
Sandra Gin