Part two of our road trip through Spain in September, 2019. We stayed two nights in Girona and three at the Castell d'Empordà, a unique luxury property. We traveled with our 8 month old daughter, Everly.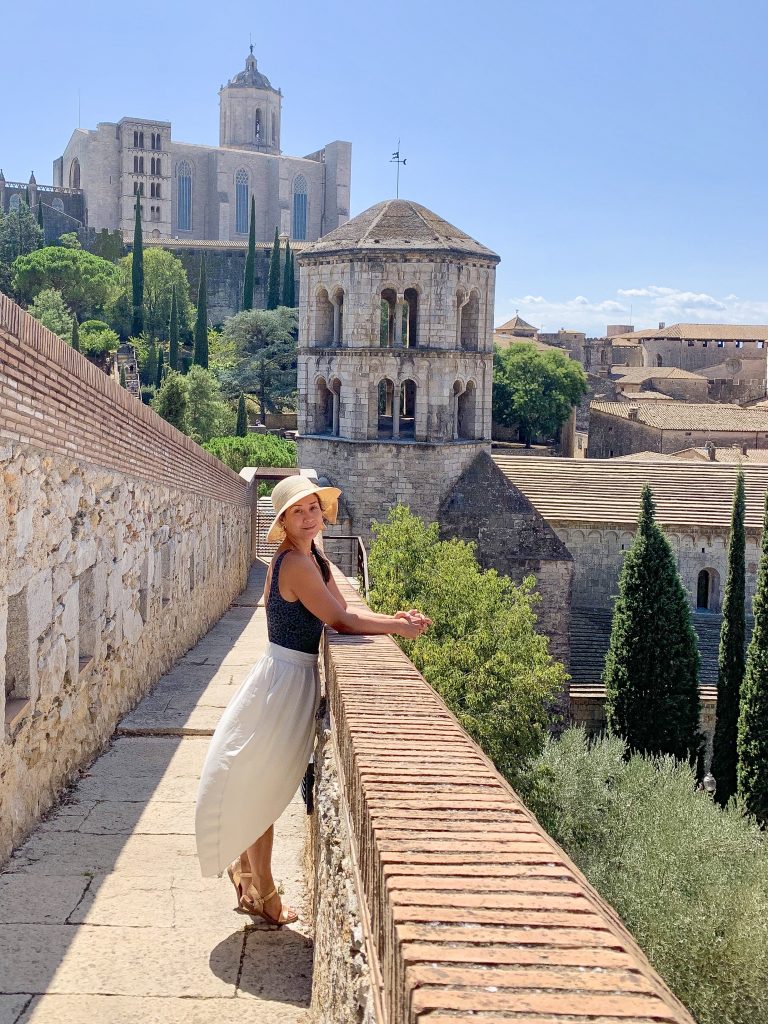 We almost didn't make the trek in-land on this road trip because our main draw to Spain was the coast. But as I was doing my research about the Costa Brava, the city of Girona kept coming up. Ultimately, I couldn't not put it into our itinerary, and so we tacked it onto the end of our trip. And, because we have learned that traveling with an infant can be exhausting, we decided to spend our last three nights relaxing in a palatial resort in nearby La Bisbal. These last stops on our Spanish trip felt so different from the rest of our travels that I wanted to make it a separate blog post. Enjoy!
Days 10-12: Girona
Girona is often overshadowed by its much larger and more cosmopolitan sister, Barcelona. But it was a precious stop all on its own, and one of my favourite experiences in all of Spain. Girona is a gorgeous medieval town only an hour and 15 minutes by car from Barcelona. Its medieval architecture and atmosphere is particularly well preserved and impressive, complete with walls that were constructed starting in the 9th century! However, if you're going with a stroller: beware! The town centre is very hilly with deep cobblestones and stairs, so a baby carrier is an essential.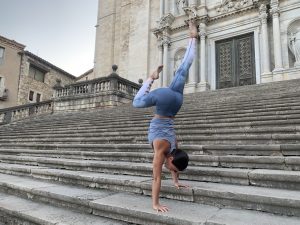 Girona has become well known over the past few years for two reasons: it's the site of several Game of Throne episodes, and it boasts one of the world's top restaurants: El Cellar de Can Roca. We never book our trips far enough in advance to think about things like restaurant reservations, but I wish we had been more on the ball this time around. Apparently, El Cellar de Can Roca won the world's best restaurant (whatever that means!) in 2015, and has been a dining superstar ever since. If you have the chance to go, please let me know what you thought!
Despite not getting into El Cellar de Can Roca (I actually tried!), we had some incredible meals in Girona that are not to be missed! My favourite was a cute "biker" cafe, called La Fabrica, and by biker I mean cycler! Owned by cycling enthusiasts, it's a long-time haunt of cyclists making their way through Catalonia. However, the main draw for us was the incredible and beautifully presented food. We came twice and loved everything we tried, particularly the oat-milk lattes and specialty toasts! Also fun: if there aren't any seats available, you're welcome to grab a cushion and fashion your own seat on the accompanying outdoor stairs (which was challenging with a baby, but memorable nonetheless!).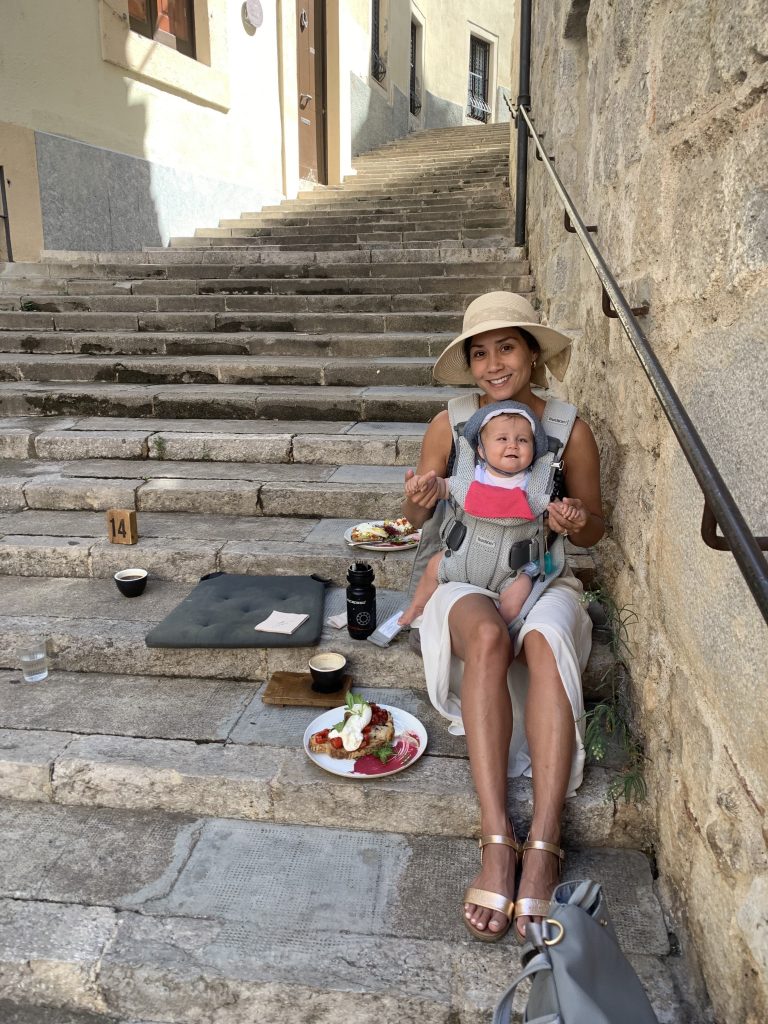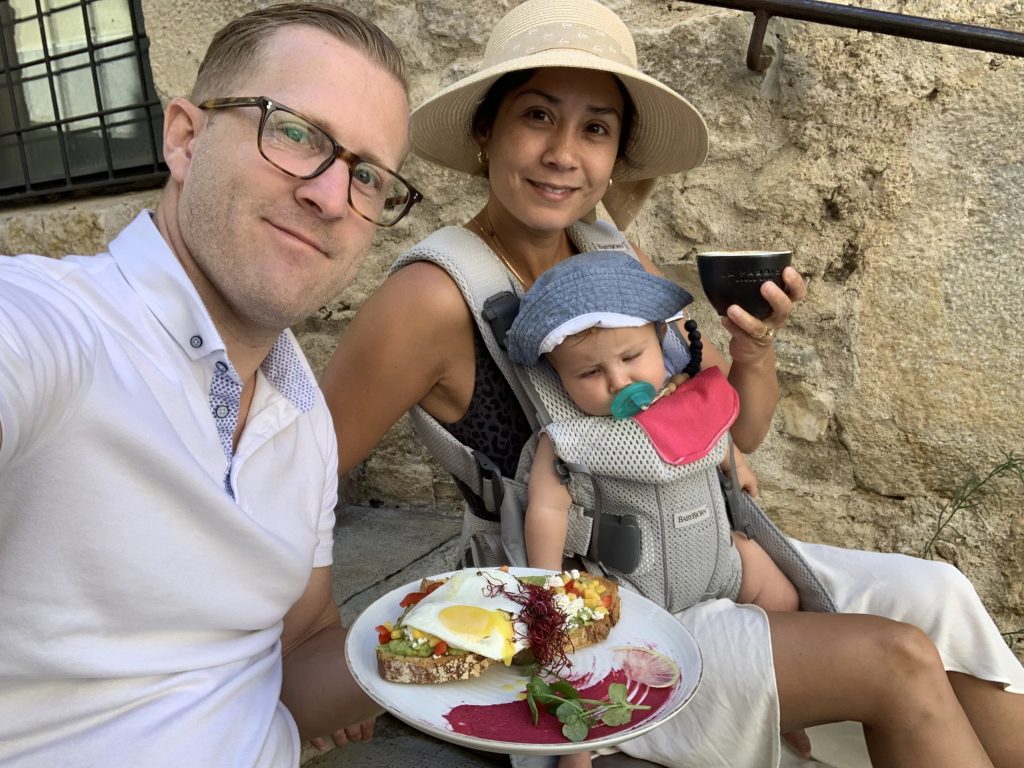 We also had our best paella at l'Alqueria after doing a quick google search. Funny story: we knew we were in for a tough night when Everly started getting fussy on our quick walk over the bridge to l'Alqueria. While the restauranteurs didn't bat an eye about our bringing our baby, as she began to have a meltdown, we were seriously stared down by the table across the room. Apparently they kept giving my husband the stink eye, but I was too busy trying to get Everly to shush that I didn't notice. In any case, we spent the whole evening rocking her with no luck and she didn't fall asleep until we were ready to leave. All that being said, the paellas are enormous and impressive. The waiter carries the piping hot pan over to the table to view before serving the table. We chose the lobster paella and it was rich, creamy, and to die for.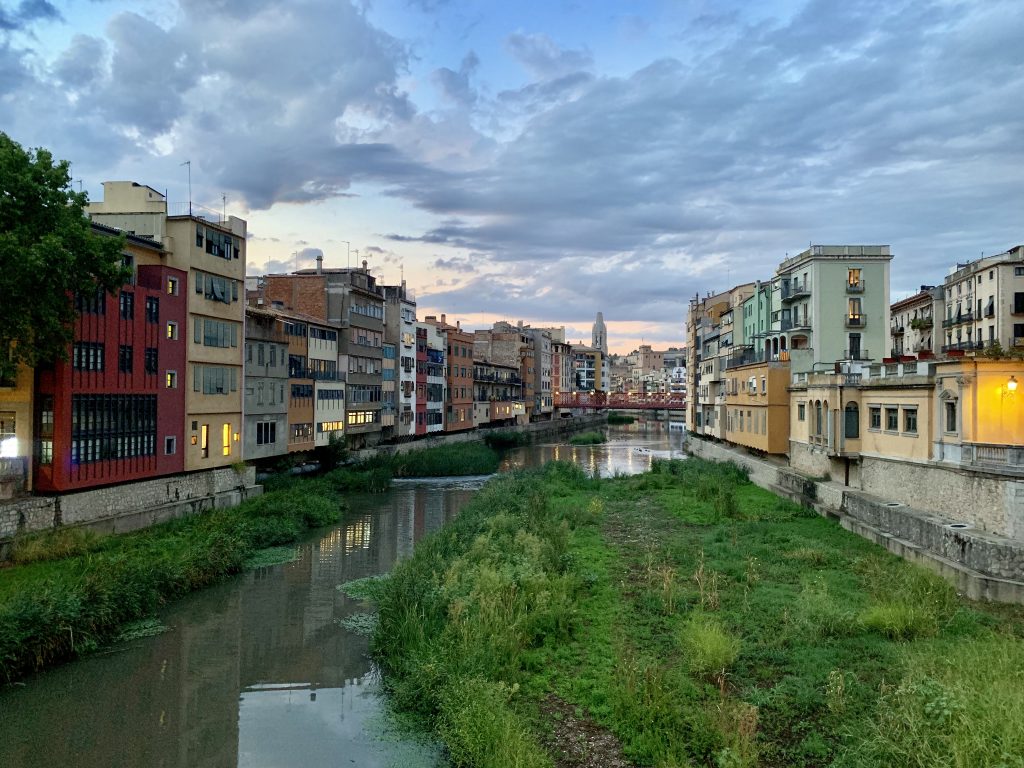 One of the many reasons we loved Girona is because of our unique lodging: the AS Palau Dels Alemanys. It's hard to describe how interesting this hotel is, but just read the reviews on the link above! Eric, the owner, a 30-something Gironian, has converted an old historic building into a stylish mix of old and new. There are only 3 or 4 rooms (one on each floor), that are completely unique. We had the middle floor unit with romantic windows accompanied by little stone seats. Perfect for taking a glass of wine and watching the sunset.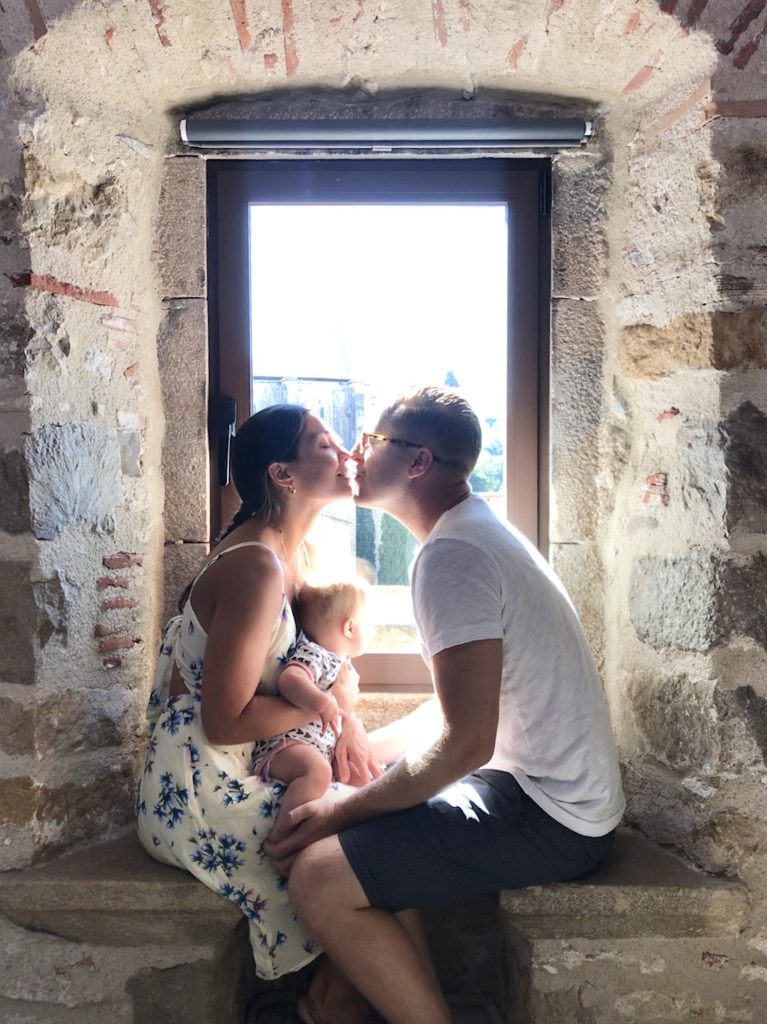 Everything in Girona is within walking distance, and we loved how this was so close to the main Girona Cathedral. We arrived there at sunrise on our first morning and had the entire square to ourselves…it inspired me to film a short yoga sequence!
There is so much to do in Girona: taking in the sights, dining at some of Spain's standout restaurants, or taking day trips to wineries or nearby villages. We took the short trip to Figueres to see the Salvador Dalí Theatre Museum, which is just as eccentric and amazing as it appears in pictures. We also drove up to Besalú because I couldn't resist seeing its medieval bridge in person. Only 35 minutes from Girona, it makes for a great few hours of exploring (the city itself is very small), and walking both on and below the bridge.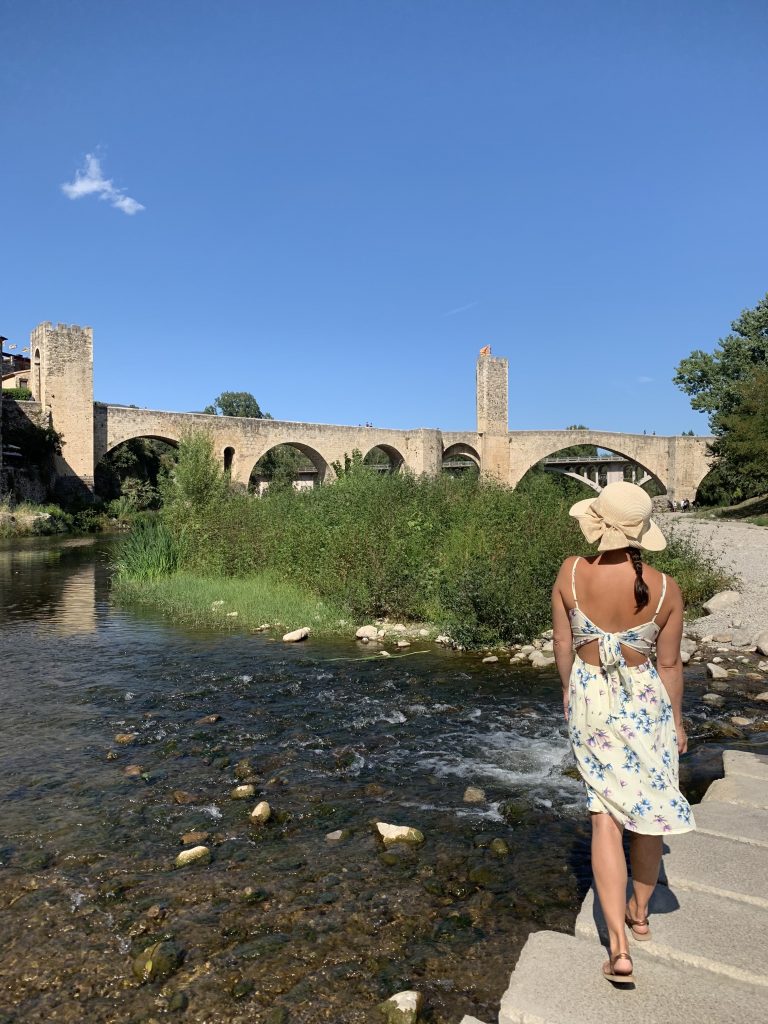 If we had had more time, I would have insisted that we see Garrotxa, which boasts some incredible volcanic geography, castles, and nature reserves. But we only had two nights in Girona and we wanted to spend our last three days relaxing by the pool. Besides, Everly was still keeping us on our toes with her 8pm fits (that coincided perfectly with dinner each night), and so we opted for a little more R&R on our last stop.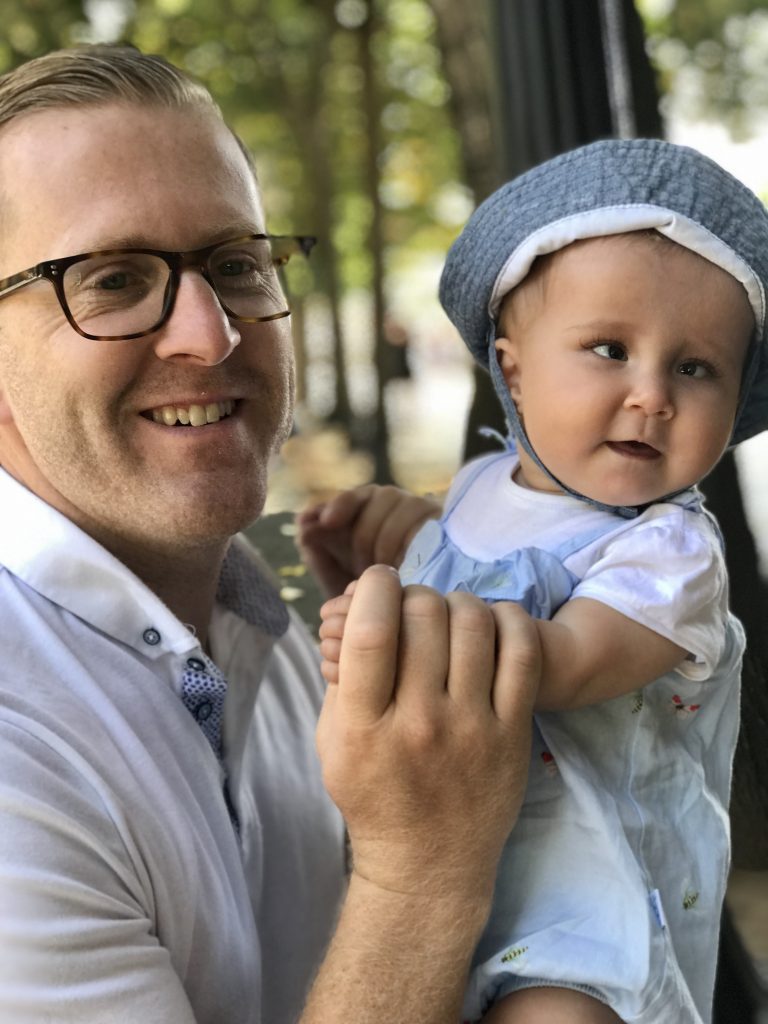 Days 12-15: Castell d'Empordà
As I was randomly searching through hotel sites in Catalonia, I came across what looked like it must be too good to be true: Castell d'Empordà, just 40 minutes from Girona. It looked like everything we were hoping for on our last leg of the trip. A bit of a splurge, perhaps, but a stunning historic property with two pools, two restaurants, a spa onsite and a nearby winery. It's always a bit of a shot in the dark to book luxury accommodations because you go in with high expectations and it can be such a letdown if the hotel doesn't deliver. However, we were only pleased and more pleased by our stay at Castell d'Empordà; it made the perfect ending to our Spanish road trip!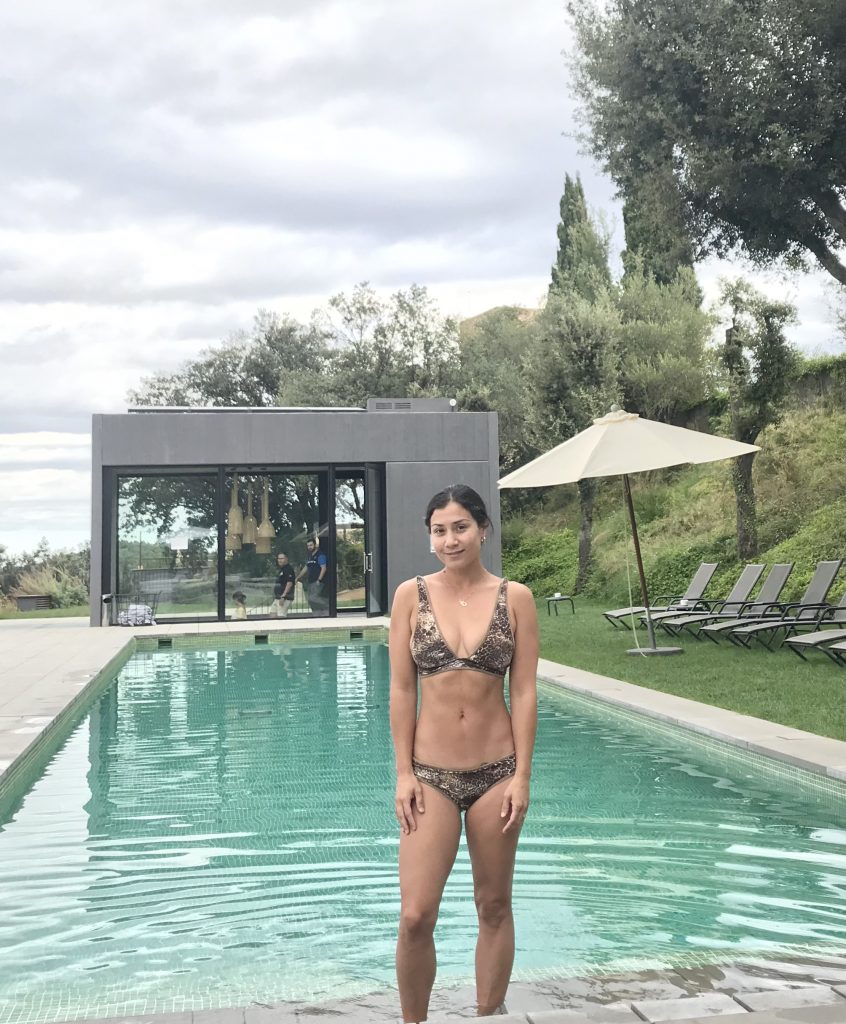 This was a time for us to set up shop at the pool with a bottle of cava and a book, while ordering delicious tapas from the restaurant. We slept in, lavished in the breakfast buffet, and sunned ourselves through the afternoon. Beyond visiting a winery one afternoon, we stayed on the hotel property and enjoyed life in the slow lane.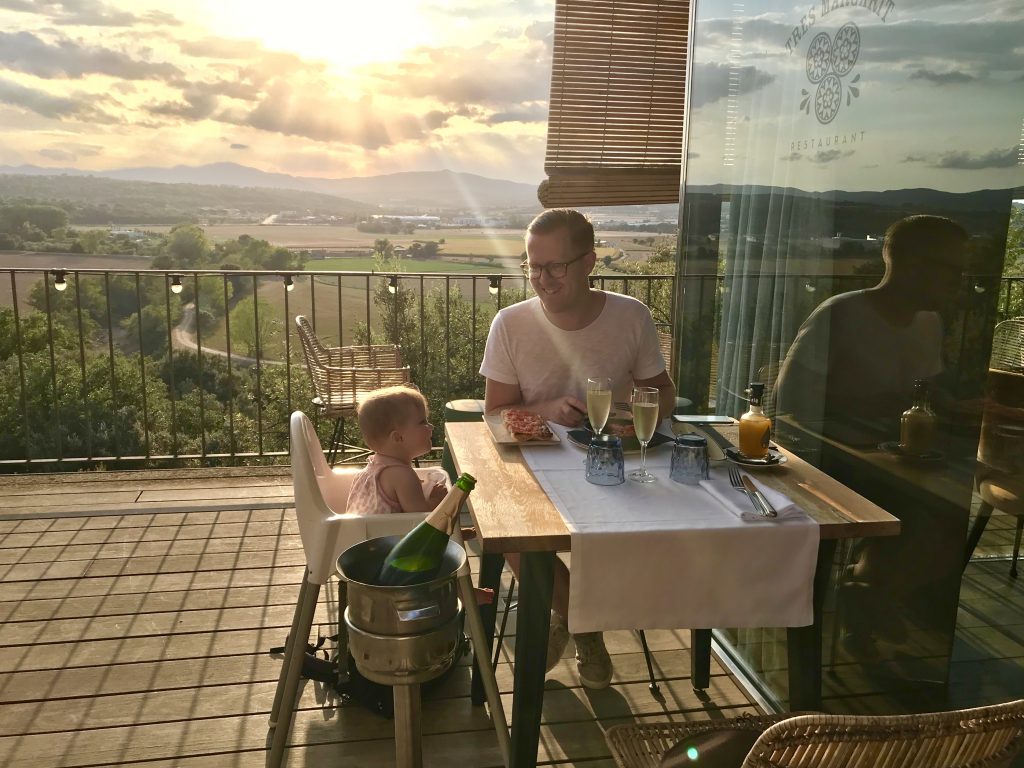 If you love wine as much as we do, make a point of visiting Eccocivi. A 20 minute drive away brought us into rolling hills and one of the best wines we have every tasted in our lives: Ca l'Elsa 2014. When a European wine costs 50 euro, it better be spectacular! We loved it so much that we ended up buying two bottles to take home! This is the only time we've ever checked our bags at the airport, just so we could enjoy this wine at home!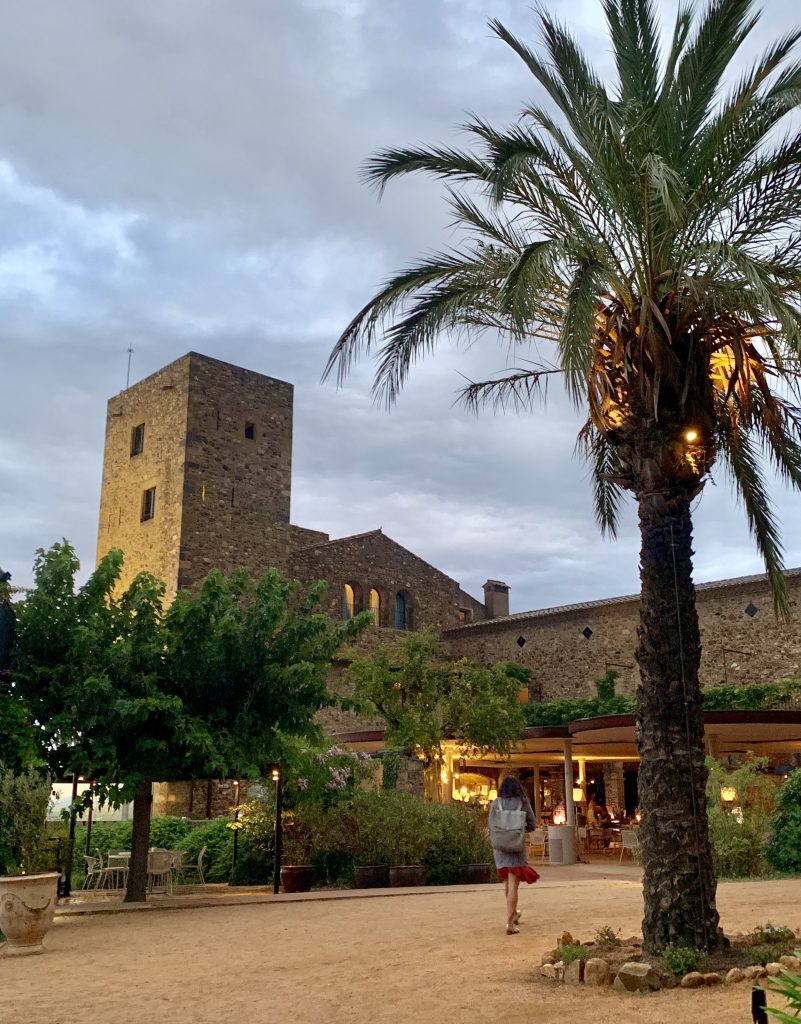 Lasting Impressions
Spain is a big country with several distinct regions. It is culturally and geographically diverse. We took a less-travelled route through Catalonia (instead of Madrid and Seville) because it allowed us to see a decent amount of this region, with day trips taking no more than 1.5 hours in length. This was a perfectly accessible amount of travel for a young family with a baby, easily done in a car. We wished we had more time to explore both the coast and in-land, but that is always going to be the case with a country as vibrant and beautiful as Spain.
There is no way to "see it all" in a region as plentiful as Catalonia, so my advice is to choose fewer highlights and to spend a little longer in each place. My FOMO led to us rushing around from town to town before we had a chance to fully appreciate it … but this is a common problem for many travellers!
Dining with a baby was difficult and sometimes meant that we had to go hungry at night if Everly wasn't cooperating. With dinner times starting at 8pm, it meant for very late nights, which wasn't super convenient with an infant. There were definitely a few times that I had to send Robin out to find us some takeout while I stayed home rocking and nursing Everly to sleep.
This trip taught us a lot about international travel with a baby. It took Everly almost a week to adjust to the new time zone in Spain, and almost 3 weeks!! to adjust when we got home. We were so put off by sleep deprivation that we gave up on the idea of taking another big trip this fall (opting instead for closer destinations in the same time zone!).
It also taught us just how much we love traveling with our baby. We really began to see her personality shine through when she got to play at the beach or in the pool. By the end of our two weeks, she went from "almost crawling" to taking her first inches forward, and that was a memorable sight all on its own.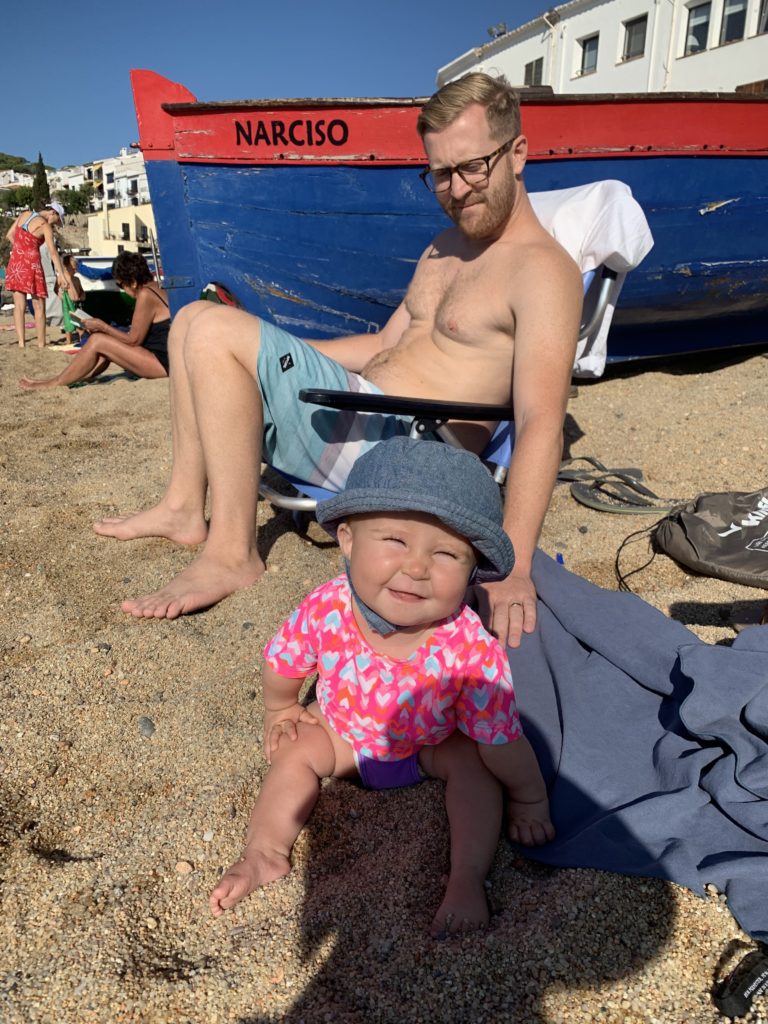 This road trip was special for so many reasons. It will always hold a tender place in my heart as that ambitious and magical adventure we managed to surmount during my mat leave.
Until next time,
Sandra