"Rome was a poem pressed into service as a city."  Anatole Broyard
Mid-August is probably the worst month of the year to visit Rome.  Tourism and prices are at their highest.  Temperatures push 35 degrees Celsius for most of the day.  Many of the shops close down for a week or more during Ferragosto (August 15)—one of the most important summer holidays across the country.
We had these considerations in mind while planning our honeymoon and even wondered if three days in Rome was too long.  Therefore, we were entirely taken aback by how much we loved our time in the Eternal City.  I would say that three days is the bare minimum to experience the splendours of Rome.  If time weren't an option, I would have stayed a week!
Although I didn't design this website as a travel blog (especially since my travels generally don't revolve around yoga), I hope you'll enjoy some highlights from my honeymoon — with a fair amount of yoga pics sprinkled along the way!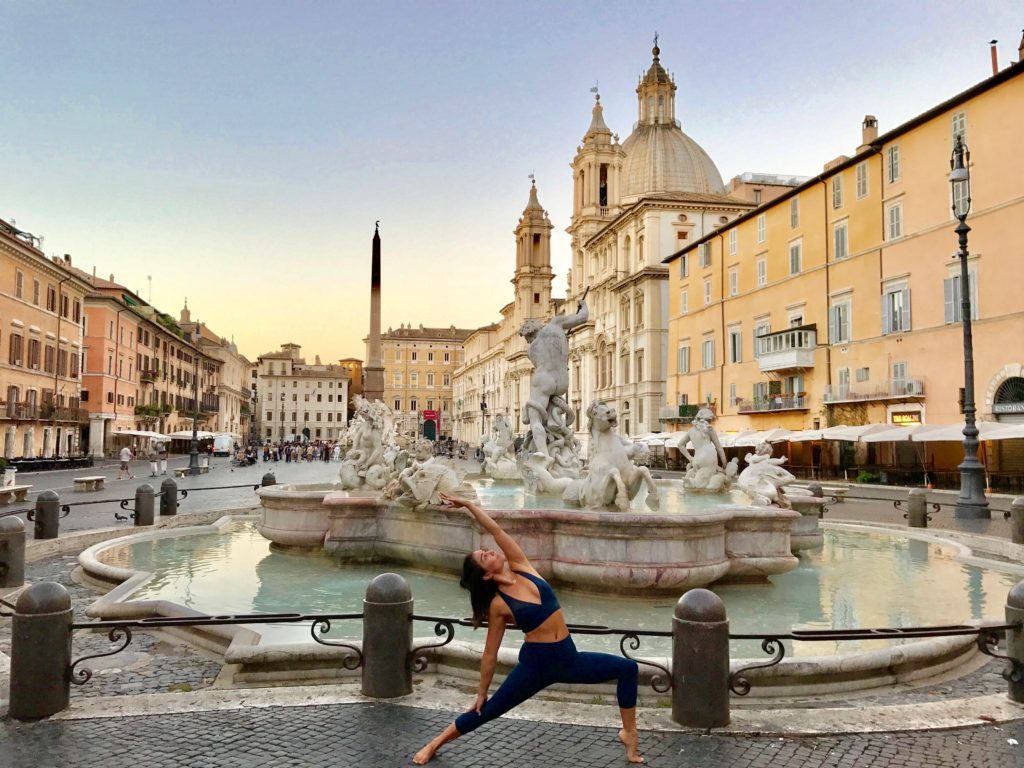 Piazza Navona is the area we chose as our home base, thanks to a recommendation from my cousin.  It was the perfect place to situate ourselves in and amongst the action (which we love), but not too noisy or raucous into the wee hours.  I chose a small, boutique hotel in Campo De 'Fiori called Mama's Home Rome, and we loved the "rough" renovations of glossy cement and exposed beams of our large room with a king bed (an unexpected luxury in Europe).  From Mama's, we were able to walk to every single attraction (the furthest taking only 25 minutes), which gave us time to digest all the pasta!
On our first morning, we awoke at 4:00 am.  We were wide awake from jet lag and itching for something to do.  We waited until the sun rose and then spent an hour roaming the empty streets.  I'm still struck by those first impressions of the city.  Every corner revealed new and more impressive architecture and history.  It didn't seem possible that so much culture and beauty could exist in one place…but then again, Rome is nearly 3000 years old!
Robin indulged me by taking my yoga photos first thing in the morning.  It was a magical experience to have the entire piazza to myself in the sunrise!  We tried to take a yoga class in Rome while we were there, but they were closed up due to Ferragosto.  Next time!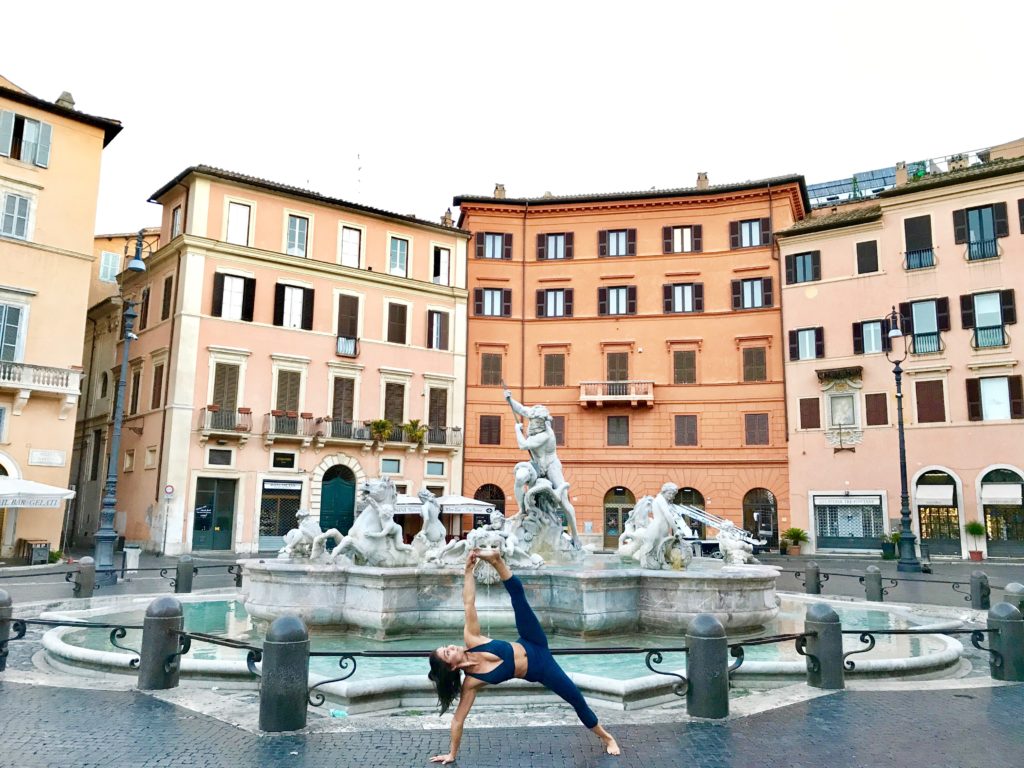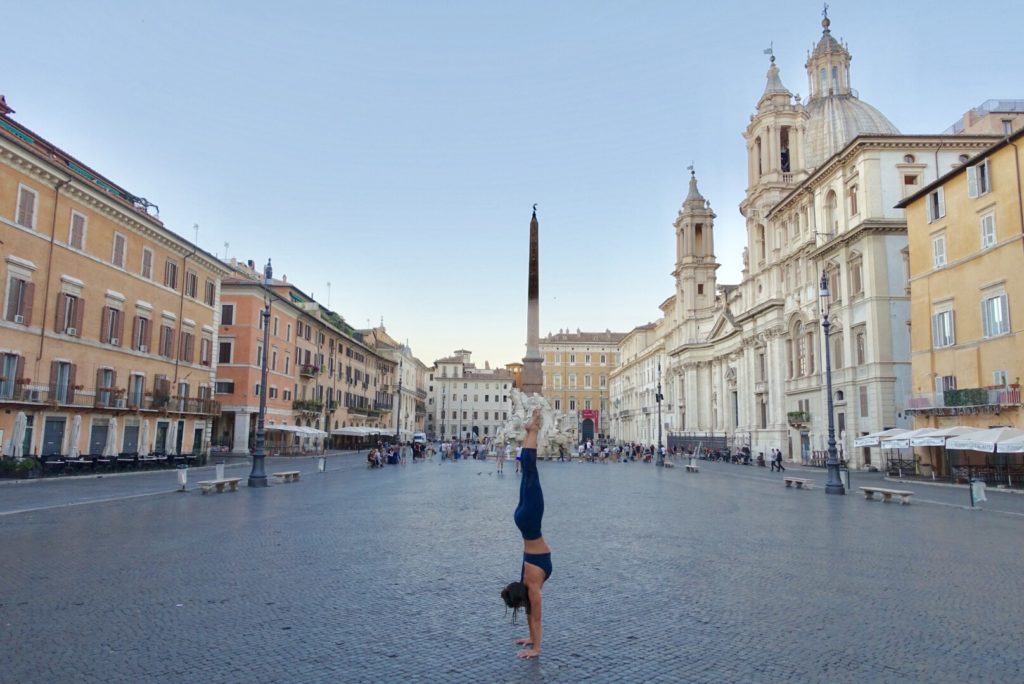 I think part of our hesitation towards Rome stems from our general distaste for guided group tours.  We stay far away from them if we can, preferring to rent our own transportation and find sites that are off the beaten track.  That being said, I would highly recommend booking guided tours to the major sites in Rome, and here's why:
If it's your first time in Rome, the major sites in Rome simply cannot be missed.
If you're visiting in the summer, you're going to be up against an influx of tourists.
The heat might kill…or at the very least, put a damper in your attitude or make you need a major air conditioned siesta in the middle of the day.  It's worth the money to pay a little more to skip the queues.
For these reasons, we booked tours in advance and were extremely thankful that we did.  We used "The Roman Guy" for the Express Tour of the Vatican (2.5 hours), and it was the perfect way to see the most extraordinary museum of our lives, with an intelligent guide and only five other people.  The Sistine Chapel was particularly fascinating to me since I regularly teach Paradise Lost by John Milton and have lectured about the iconography of Adam and Eve…so seeing these paintings in real life almost brought tears to my eyes!  Okay, enough geeking out!
We didn't have the foresight to book The Colosseum and Roman Forum in advance but got in with a group tour at the site (which we would definitely not recommend).  We were rushed along with over 50 other people in the scorching sun, and despite the amphitheatre being the most extraordinary piece of architecture we have ever seen, we were not particularly pleased with the experience itself.  My recommendation would be to go on your own during off-season or to book well in advance with The Roman Guy if you are heading to Rome in the summer.  That being said, the Colosseum is fascinating and its history even more so, and it makes such a difference to learn about this brutal and charged period in time from a knowledgeable guide.  Book a small group tour if you can!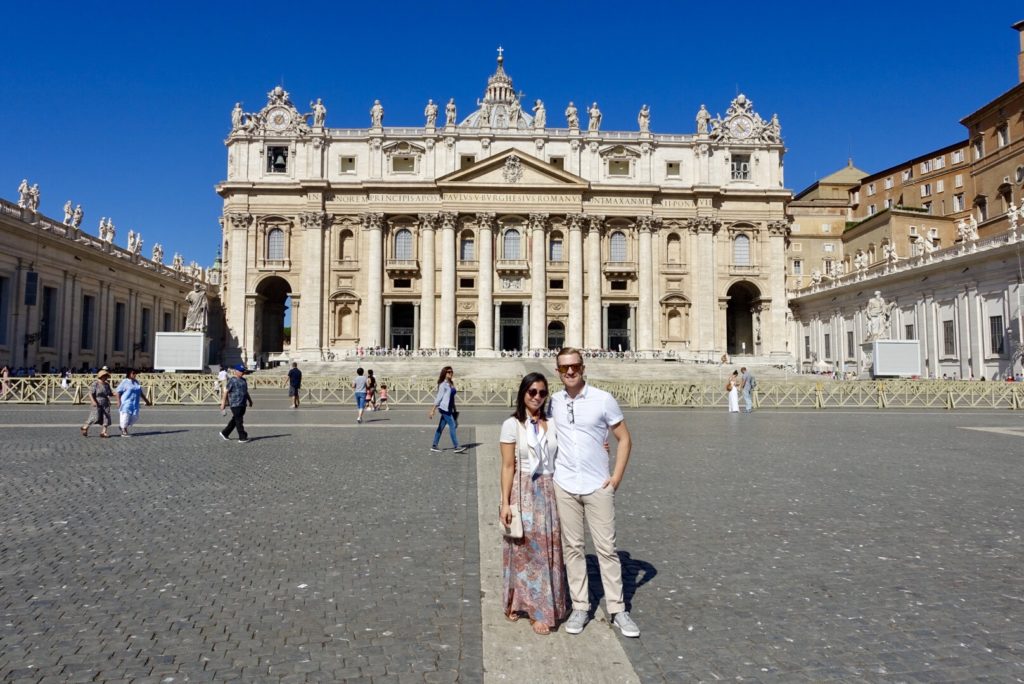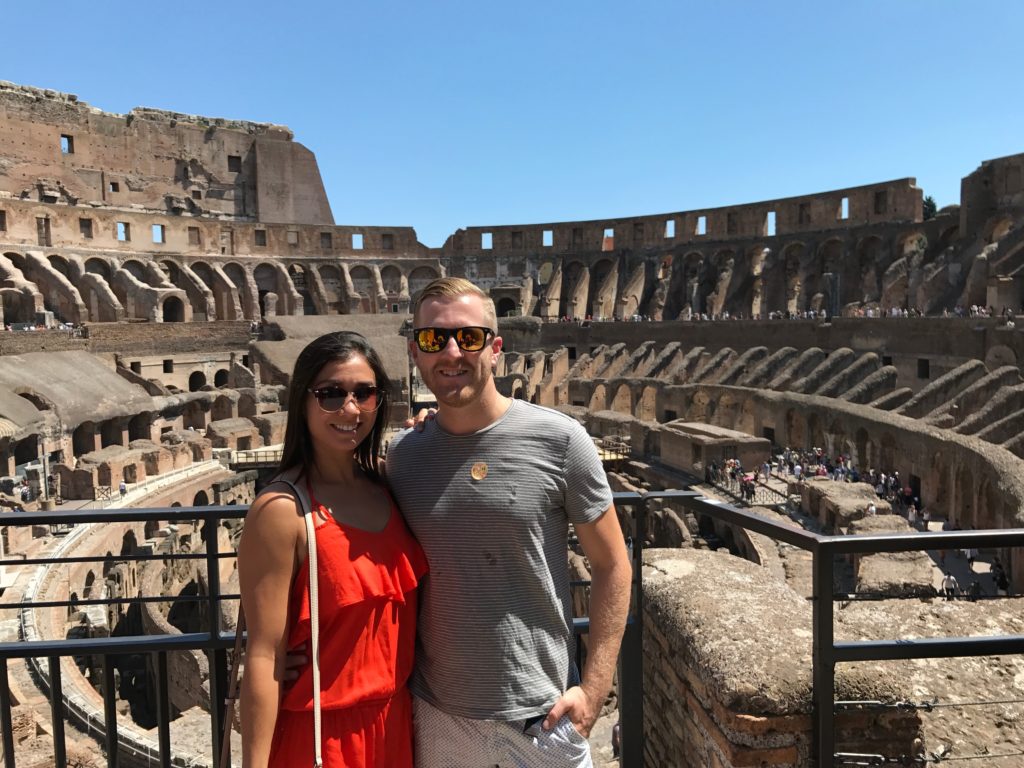 Days are long in Rome but happily broken up by meals—essentially our raison d'être for the entire trip!  There is utterly too much to describe, but if you're headed to Rome, here are some of our favourite gastronomical experiences:
Borgo Ripa – in nearby Trasterverre.

 

This is an expansive outdoor courtyard for dinner and/or drinks and decidedly Italian.

 

You will not find any tourists or English menus here, and it is a hopelessly romantic place to dine al fresco as the sun goes down!

 

Great prices too!
Da Michele – known across the globe as "the best" pizza in Naples, Da Michele opened a pop-up shop on Tiber Island this summer.

 

Serving only four types of pizza, you are in for a treat with this traditional neapolitan fare!
Gelato – everywhere!

 

I'm actually not much of an ice cream fan, so I was hugely surprised by how much I loved gelato.

 

I read in the Lonely Planet guide that you can tell the best gelato bars from its pistachio gelato (be on the lookout for pale green rather than artificially-coloured green).

 

I sampled at least one gelato a day and could honestly not rank them apart.

 

Every one was delicious, which probably means that I'll need to continue sampling throughout Italy to become a better judge 😉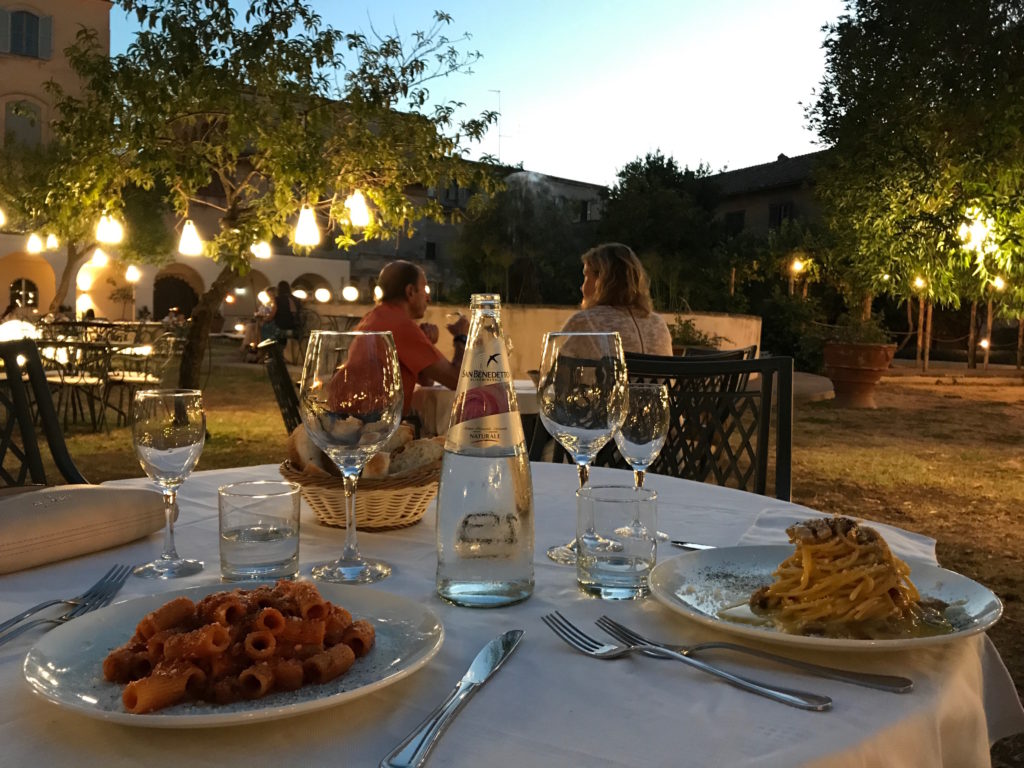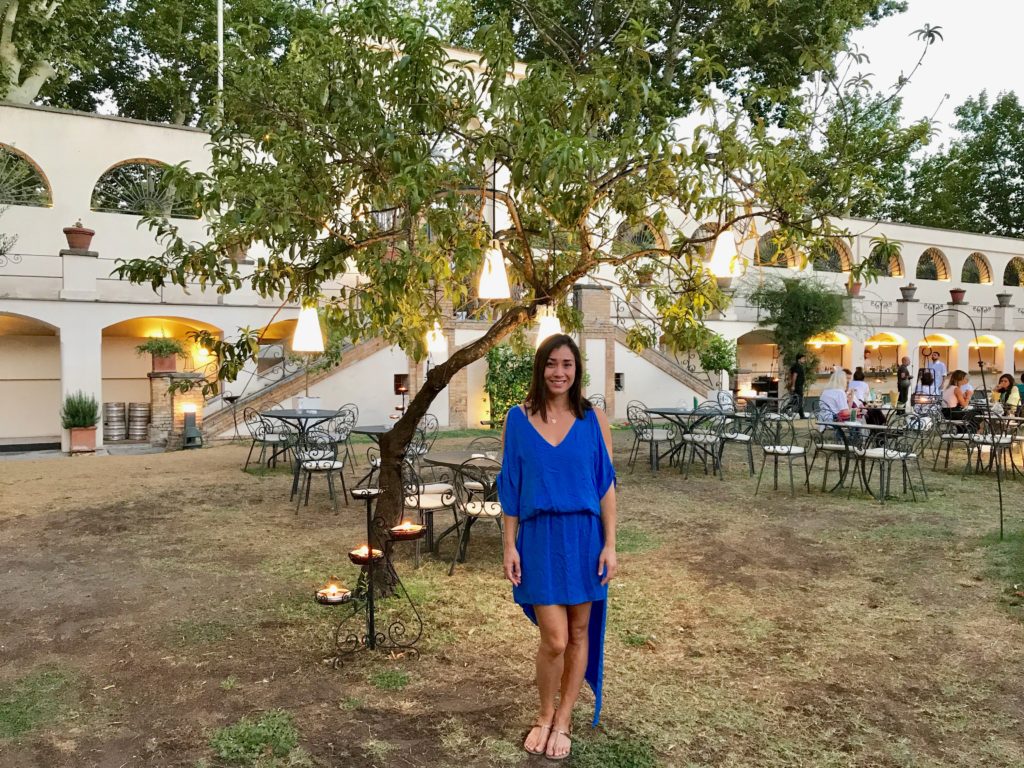 There is so much more to say, but I'll leave you with two other tidbits in case you're heading to Rome.  The Tiber.  In the summer, it's dotted with outdoor bars, markets and restaurants that really come alive at night and stay open until late.  Go.  It's a fantastic melange of fun.  Other than that, Rome is a surprisingly dog-friendly city!  We saw people and their dogs everywhere, and shops / restaurants seemed very accommodating to canine guests, which was refreshing and sweet.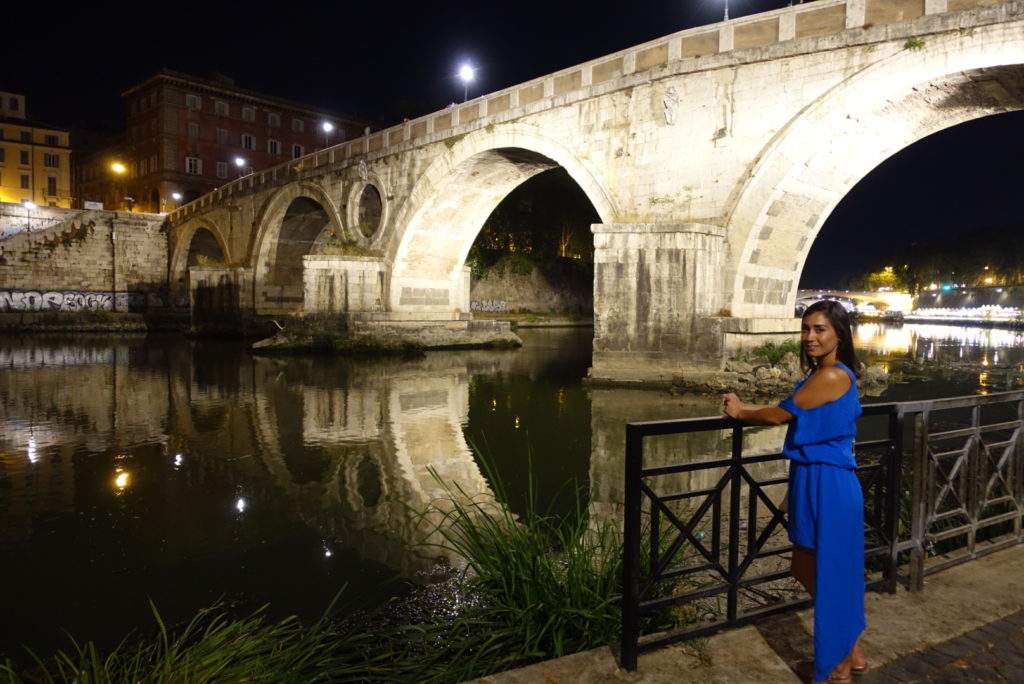 Next stop Venice!  With love,
Sandra