Part 1: Split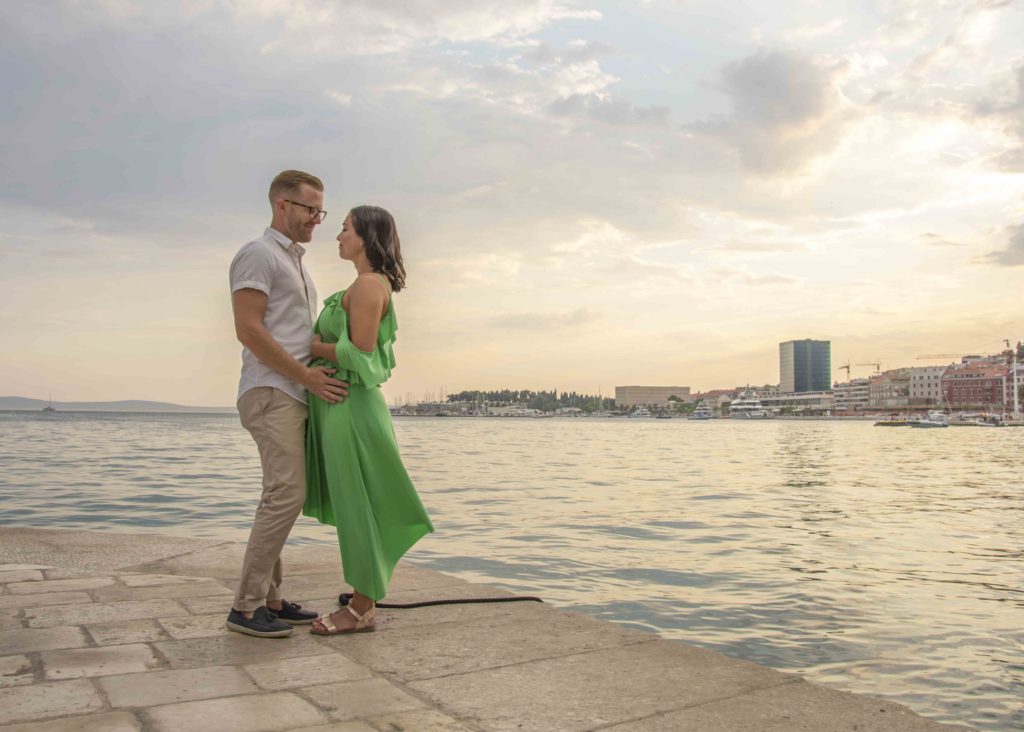 Robin and I have spent the last several years traveling around the same times each year, due to my teacher schedule and his flexibility as a real estate agent. We knew we wanted to head to Tel Aviv for our friend's wedding this summer, but we were waiting on the progress of our pregnancy before we booked anything. When we got the go-ahead to travel internationally, I started looking at European destinations that would suit our tastes, keeping in mind that I would be near the end of my second trimester.
Croatia had been our radar for some time. The vivid turquoise waters and Game of Thrones allure had intrigued us, and as I began to do more research, it became clear that this was a country worth exploring. Choosing an itinerary was the trickiest part since we only had 10 days. In the past, we have raced around countries due to FOMO (fear of missing out), but I didn't want to push myself this time. As a result, we chose three spots: Split, Hvar Island, and Dubrovnik. International flights go in and out of Split and Dubrovnik, and it worked better for us to start and end our trip in Split.
Upon arrival at the sunny harbor (more commonly known as Riva) of the old city, we were spellbound by the ancient charm and coastal luxury of Split. The waterfront was dotted with palm trees and open-air eateries, all backed by the aging and romantic walls of the city. As we walked through the labyrinthine cobble-stone and marble streets, we were seized by the grandeur of Diocletian's Palace, originally built in the 3rd century! The palace is a fascinating cultural tour in itself, revealing centuries of different religious and political eras. We came in the height of high season, so there were plenty of tourists, but it was nothing like the hordes of people we saw in Italy last year.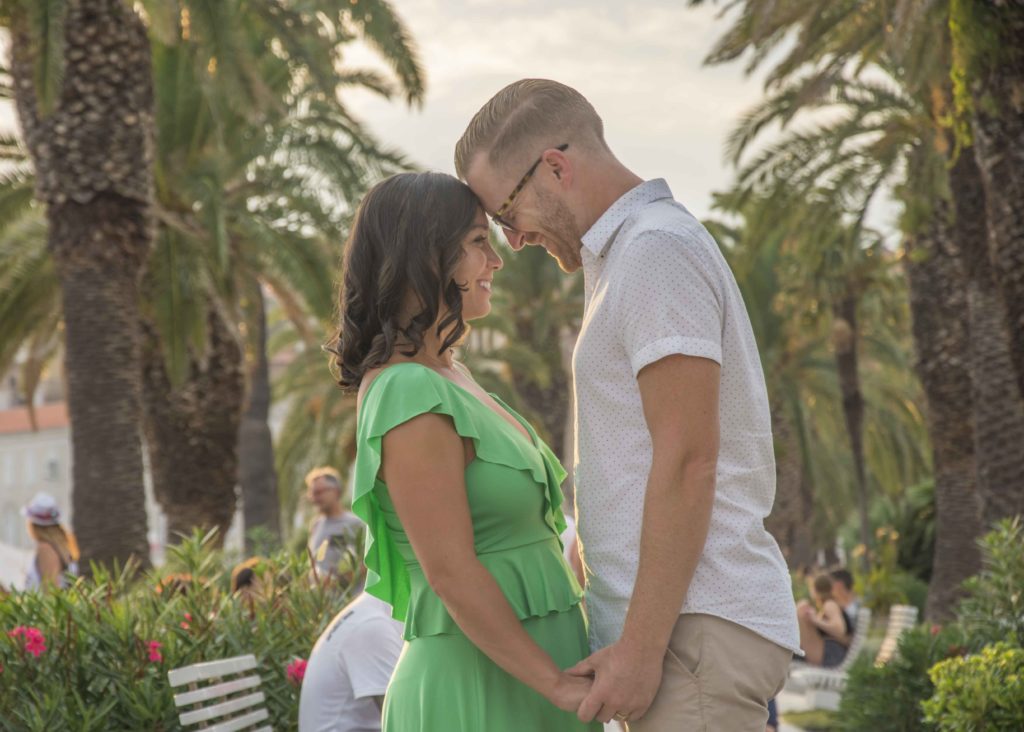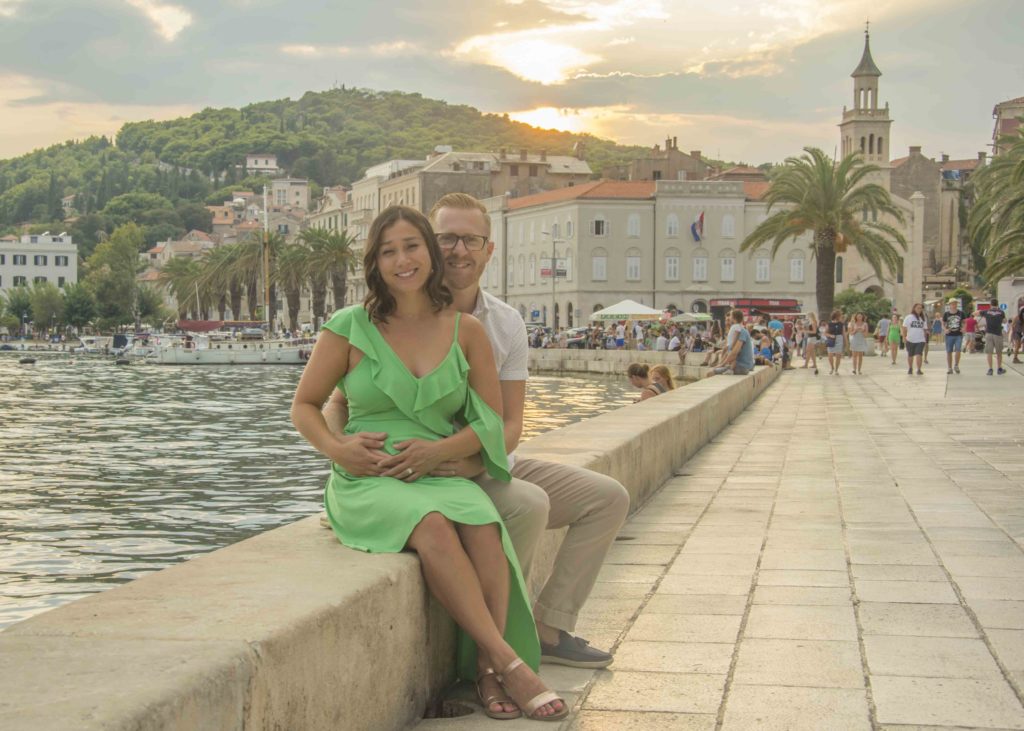 I would recommend staying close the Palace for ease of exploring (especially with the intense heat and being pregnant). There aren't as many hotels as there are guest houses—apartments that have been converted into rental rooms on each floor of an old building. We opted for Procurator7. While the room set us back about $300 USD a night, it was the perfect proximity to the heart of the Split, and boasted a stunning common rooftop with 360 views of the town. We loved the quirky elegance of the rooms, along with complimentary room service breakfast and sunrises on the rooftop.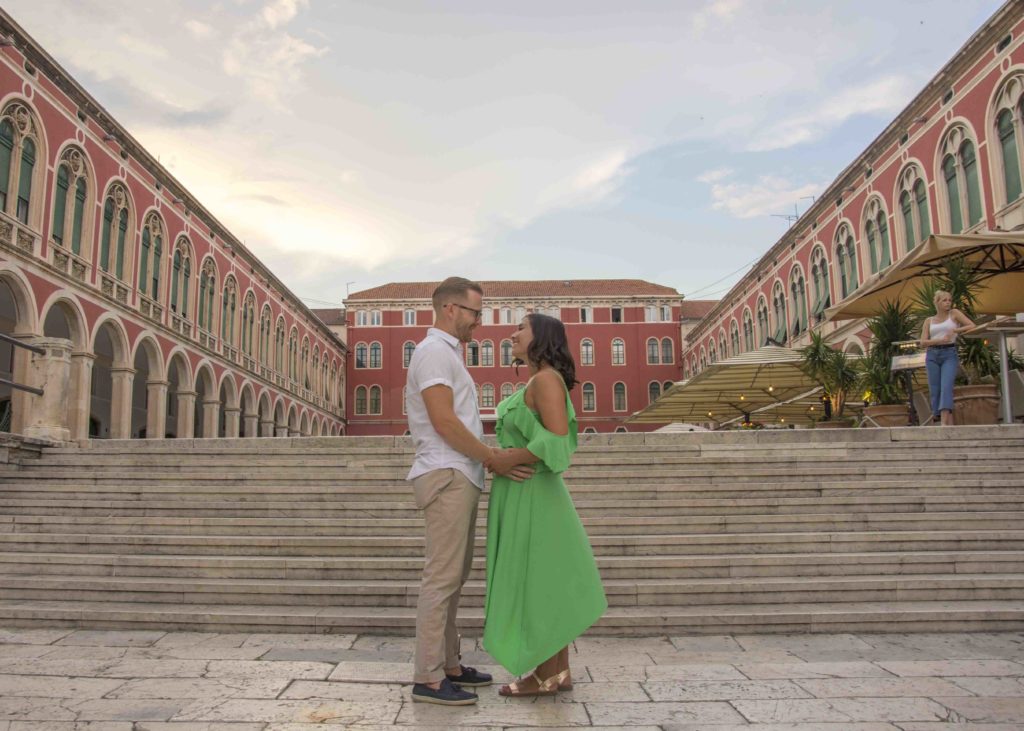 I'll save a more detailed description of food for my next post, but let me just say that food tastes so much better when pregnant! I was in heaven sampling delicious seafood, pasta, and risotto, and there are endless culinary options in Split for a range of budgets.
Although there isn't a beachfront directly in the old town of Split, there was a city bus station just steps from our room that took us twenty minutes down the road to the local's favourite beach, Kasjuni.  Be warned: almost none of the beaches in Croatia are sandy, and so water shoes are vital if you have sensitive (read: pregnant and swollen) feet like me and can't manage to walk on rocks and pebbles. Despite the inconvenience, the water in Croatia is really as turquoise as the pictures, and I have never been so happy to wade in and out of the water. I've also learned that my pregnant body floats much easier than formerly, and it feels amazing to be weightless and cool in the Adriatic Sea!
Because this was our last trip together as a couple, I surprised Robin with a sunset photo shoot to capture these special travel memories. In the past five years, we've had the pleasure of exploring 17 countries together! It's still hard to imagine what our vacations are going to look like in the future, and I'm so glad that we have these beautiful photos to keep for a lifetime. It was also my one-year "paper" anniversary gift for Robin, and I can't wait to have our favourite photos printed!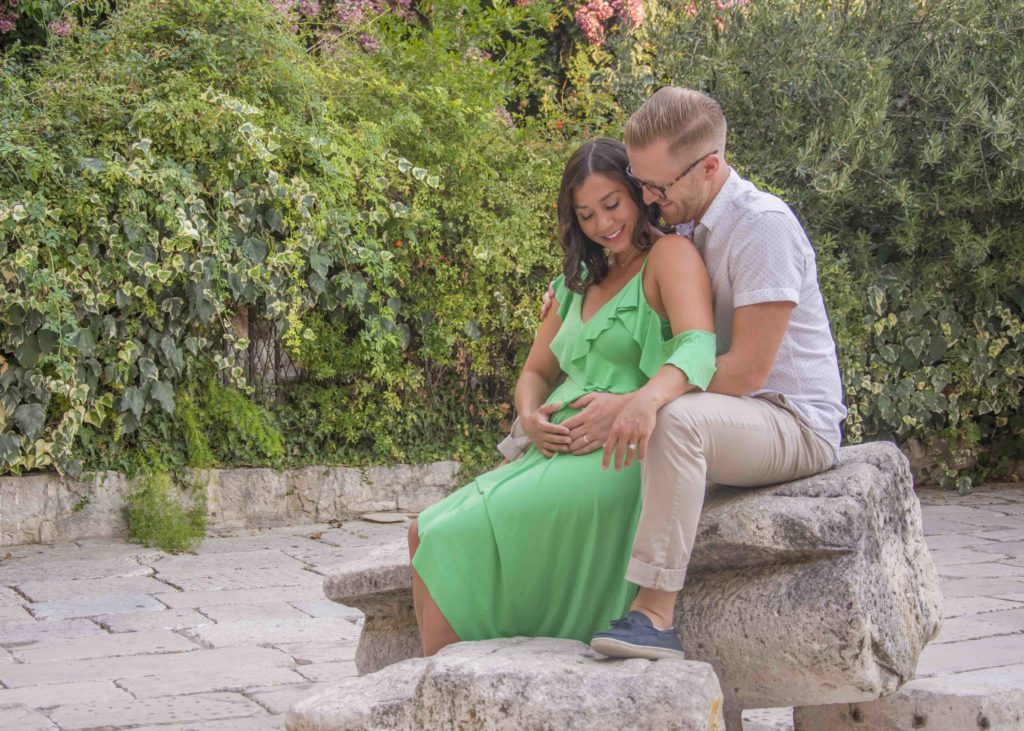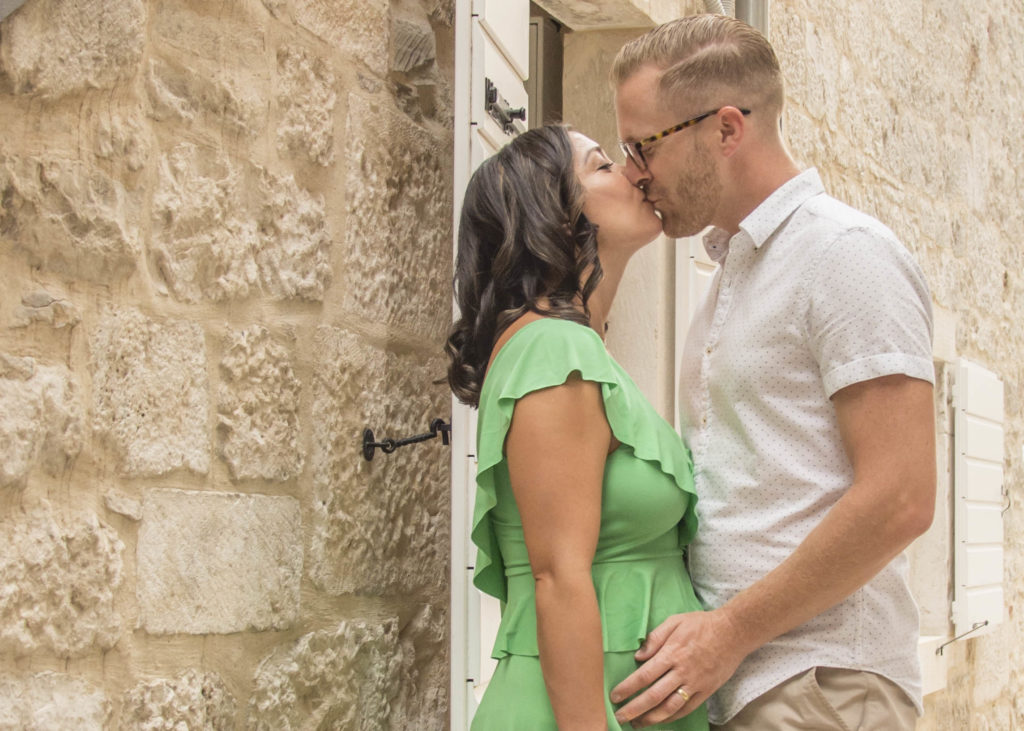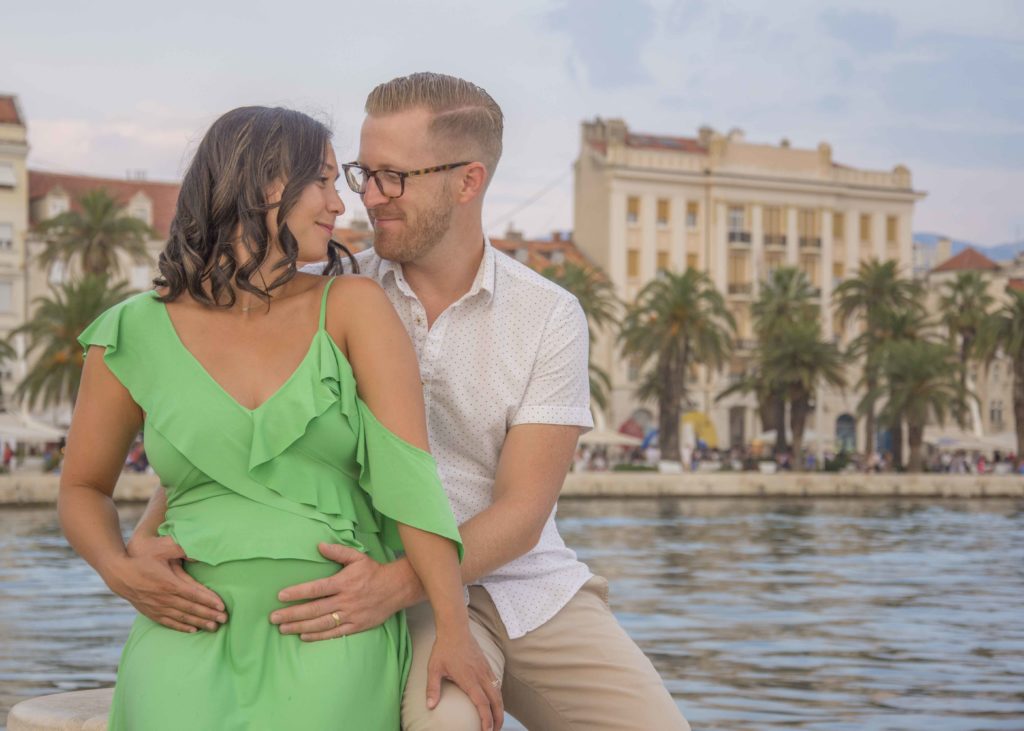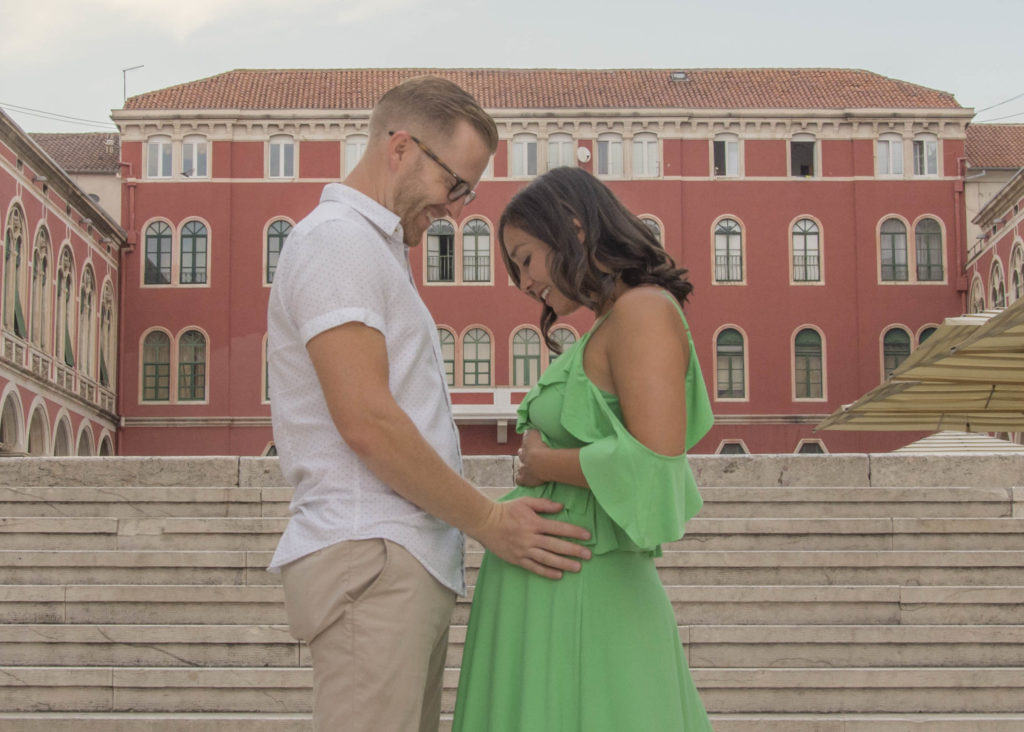 Other notables about Split:
Almost everyone speaks English and it is very easy to order food or ask for information. We found locals to be extremely friendly and helpful.
Restaurants stay open late! Dinner establishments open around 11am and stay open until midnight or later. We were told this is because many locals take a siesta in the middle of the day due to the intense heat and then return to work in the afternoon. Cafes and bakeries open early, and many were bustling around 6 or 7am when we were wide-eyed awake due to jetlag.
Split was one of the safest European cities we have visited. In the main parts of Split, Old Town, and the beaches, there was no evidence of crime, homelessness, begging, or scammers whatsoever.
That being said, everywhere you go, people are smoking and there's no getting away from hordes of smokers if you're eating outdoors or hanging out at the beach.
Buses are very inexpensive and convenient. Taxis are pricey. Split has Uber, which we used once and found to be decently priced.
Split is a great base to explore the surrounding areas of Croatia, including nearby islands and popular excursions inland. While we didn't visit Plitvice Lakes or Krka Waterfalls (we wanted to avoid the crowds), it appeared like many tourists took day-trips to these destinations.
Trogir is a beautiful walled city an easy 1 hour away by passenger ferry (approximately $5 one way), and worth a trip out if you have a free morning. The well-preserved medieval town can easily be explored in an hour or two.
The ferry and bus depots are a five-minute walk from Old Town Split. If you are island hopping without a car, the ferries are convenient, cheap, and comfortable. We easily got to Hvar Island (2 hours one way) and only showed up 30 minutes early without buying tickets in advance. You can, however, purchase tickets online and there are two or three different ferry companies that all dock at the same area.